Cryptocurrency mining craze is now at its peak and there appears to be a huge demand for GPUs in this segment. For the uninitiated, cryptocurrency is a digital or virtual currency that uses cryptography for security. Cryptocurrency is really difficult to counterfeit because of its signature cryptographic security feature. It's basically a digital asset designed to work as a medium of exchange using cryptography to secure the transactions and to control the creation of additional units of currency. Using Nvidia's Pascal GPU architecture, several customized machines are being built to help crypto miners.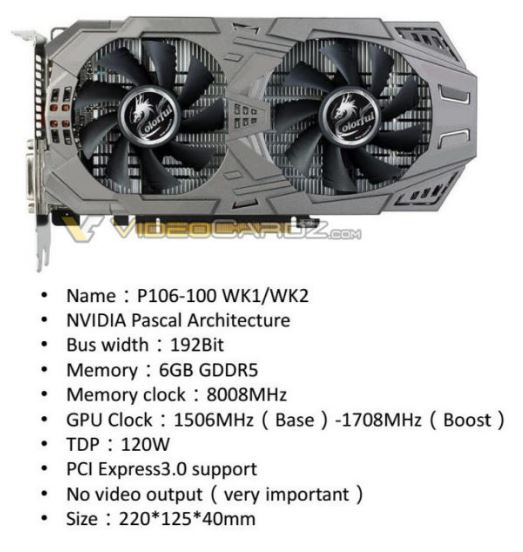 Nvidia GTX 1060 GP106-100 available at $200 and Nvidia GTX 1080 GP104-100 available at $350
We had recently outlined one of the Pascal-based GPU cryptocurrency mining solutions. The system, according to reports, comes equipped with 8 GP106-100 mining cards. These are passively cooled and don't come with display connectors. As for the processors, the full system uses Celeron Mobile processor, 4GB DDR3 RAM, and 64GB mSata SSD.
Two GPUs from Nvidia have been targeted specifically at cryptocurrency mining. Based on Pascal, both the GPUs are designed to provide better cryptocurrency mining solutions. Nvidia's AIB partners will offer GPUs that include 'GP104-100' and 'GP106-100'. The P104-100 is expected to deliver up to 30% improvements in power as compared to GTX 1060 3GB variant. The P106-100 is expected to deliver about 10% improvements in power.
Nvidia GP104-100 GTX1080 Features
30% better performance per watt as compared to GTX 1060 3GB.
Base model operating at 1607MHz
1733MHz  boost
10Gbps GDDR5X speeds along 256-bit bus
Price starts at $350
Nvidia GP106-100 GTX 1060 Features
10% better performance per watt as compared to GTX 1060 3GB.
Base model operating at 1506MHz
1708Mhz boost
8Gbps GDDR5 speeds along 192-bit bus
Price starts at $200.
Planned for June launch, the cards are expected to ship with 3 months warranty.