The recently launched GeForce GTX 1080 and GTX 1070 are in high demand, but these graphics cards are expensive as well. People looking for good performance within their budget are opting for the new AMD Radeon RX 480. However, ardent Nvidia fans have set their eyes upon the Nvidia GTX 1060 that will be released soon. Here's some new information that has come up on the web about the GPU.
A report from Videocardz suggests that the GeForce GTX 1060 will have two variants- a 3GB version and a 6GB version. One of those cards will not come with SLI support, and both the variants will carry different driver names. This could mean that both the versions of the card might carry separate GP104 variants like the GP106-400/300.
The new report suggests that the 3GB variant will not support SLI due to the low memory and pricing. It could come close to the performance of a single GTX 1080, and this could affect the sales of the flagship Pascal GPU. But take this info with a pinch of salt, as an official confirmation is still to be made.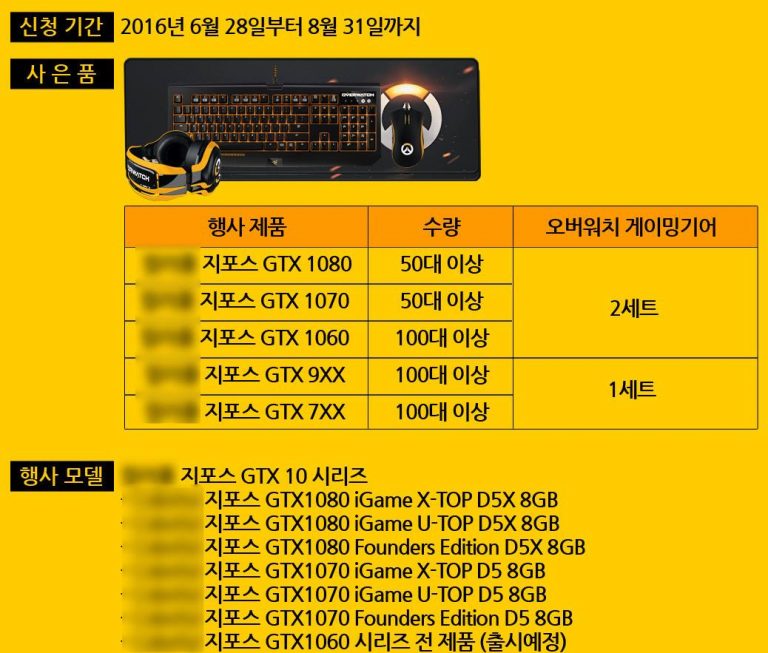 Meanwhile, the Nvidia GTX 1060 has been listed by a Korean retailer. A table (above) that probably leaked out from Facebook shows the products in the Overwatch bundle promotion that started on 28th June and will end on 31st August. Available products are listed in the first column, and the quantities in which they are available is given in the second column. The third column mentions the number of Overwatch themed goodies for those purchases. As mentioned in the last paragraph, the GTX 1060 series is coming soon.
PurePC, a Polish website, claims that it has got a GTX 1060 review sample. This could mean that Nvidia has already sent out the review units and the launch of the card is near and imminent.

These are just rumors and unconfirmed leaks, so take them with a pinch of salt. More details will arrive soon.