NVIDIA quietly announced its GTX 1060 3GB video RAM version, which possesses half the amount of VRAM present in the original version. The less amount of VRAM means that the GPU is not going to be played at higher resolutions, but we can bet it will deliver terrific performance on the 1080p resolution. The only difference between the 6GB version and the 3GB one is the latter featuring lesser number of texture units and CUDA Cores. All the differences that you were hoping to find have been detailed below:
GTX 1060 6GB
Texture units: 80
CUDA Cores: 1280
GTX 1060 3GB
Texture units: 72
CUDA Cores: 1152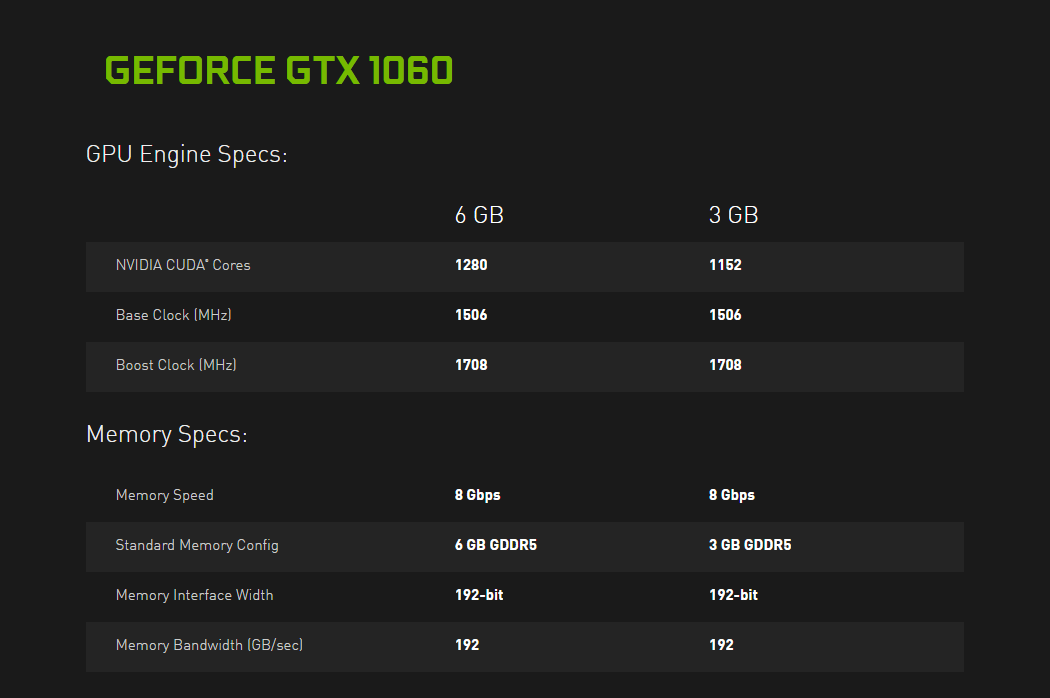 All other details have remained constant between the two graphic cards, along with the fact that this model is not going to feature a Founders Edition. The 3GB version of the GTX 1060 comes with a 192-bit memory interface, and a base clock of 1506 MHz (with Boost clock is 1.7 GHz). The TDP of both GPUs is going to remain the same at 120 watts, which shows the efficiency of the Pascal architecture. There is only one 6-pin power connector present, with the rest of the I/O connectivity ports including three DP 1.4 ports, one HDMI 2.0 port and one DVI-D port.
The 3GB video RAM version of GTX 1060 is also much more affordable, coming in for the price of $199. Hopefully, this version won't sell out too fast, otherwise, resellers and retailers will drastically start to increase their price tags. There isn't any report on this version being powered up in upcoming gaming laptops, because all we've seen till now is the presence of GTX 1080, GTX 1070 and GTX 1060 (6GB version).
Hopefully, one version will be released soon and the overall price of the notebook is reduced as well.