Looks like NVIDIA's recently launched GeForce GTX 1080 Ti is selling like hot cupcakes. So much so that it has already sold out on pretty much all the major retail platforms. Did NVIDIA and its Add-in-Board (AIB) partners underestimate the demand for the new flagship card? Probably!
And if you are one of those potential buyers looking to lay your hand on the card asap, odds are high you have no other way but to wait till later this month. According to some reports, the GTX 1080 Ti availability will resume on March 25, with the custom AIB variants expected to land in a few weeks.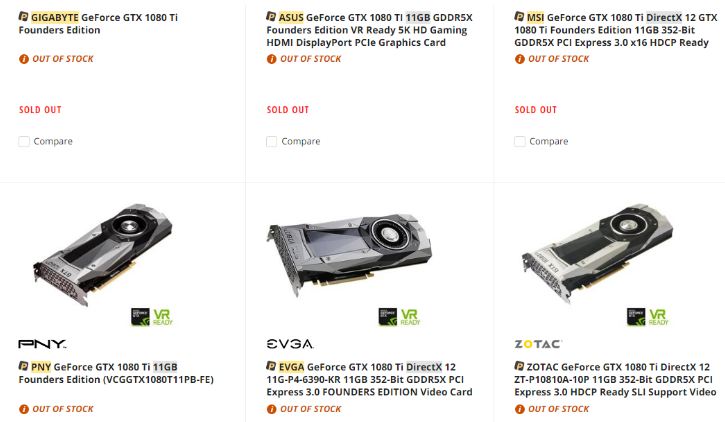 Note that if the wait is unbearable for you, there are still a few scalpers who are offering the GTX 1080 Ti in limited quantities, albeit at much higher prices.
We reckon, most of the enthusiasts won't mind waiting for the custom variants which could take anywhere between four to six weeks. These custom variants will definitely come with enhanced coolers and power supplies which make them more attractive to anyone looking for some serious overclocking potentials.
[Related: NVIDIA GeForce GTX 1080 Ti Founders Edition Outperforms Titan X, Sets New World Record In Benchmarks]
Worth noting, if you do not mind paying extra, you also have the option to go for the limited quantity of the GTX 1080 Ti Founder Edition from Amazon. It will cost you $150 over the MSRP, although that would still be cheaper compared to the Pascal X (P).
The GeForce GTX 1080 Ti is powered by the GP102-350-A1 die that has the same number of CUDA cores (3,584) as the GP102-400-A1 die of the Titan XP. The key difference between the two cards is that compared to its older and more expensive sibling, the GTX 1080 Ti has a smaller bus width of 352 bits, but a significantly faster memory speed.