During the last Consumer Electronics Show in Las Vegas, a lot of PC gaming fans were a bit disappointed with NVIDIA. This was mainly because most of them were expecting the company to unveil its highly anticipated graphics card, the NVIDIA GeForce GTX 1080 Ti. However, instead of a great announcement, NVIDIA went on and discussed things like AI and machine learning. But now it looks like the moment is finally here as NVIDIA readies its next-generation extreme PC graphics card.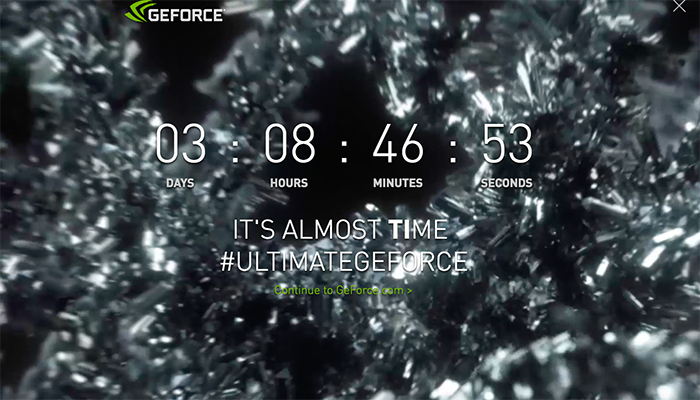 NVIDIA just published a teaser page on its website that hints at the unveiling of another high-end graphics card. Many believe that this announcement is centered on the highly anticipated NVIDIA GeForce GTX 1080 Ti graphics card. Perhaps the one that gave it away is the hashtag #ULTIMATEGEFORCE and the line on top of it saying "It's almost time."
According to the teaser, the announcement will coincide with the upcoming Game Developers Convention (GDC 2017) in San Francisco. The said event will run from Feb. 27 until Mar. 3. NVIDIA's main event will be held on the second day, i.e. Feb. 28.
This is going to be a very interesting launch for NVIDIA. The reason for this is AMD and Radeon are also launching their newest line of graphics cards, the AMD Radeon RX 500 Series. It looks like the event will be a battle of two giants trying to take the lead in the PC gaming industry.
According to Videocardz, the NVIDIA GeForce GTX 1080 Ti will become available in stores a few weeks after the GDC 2017. This could be somewhere around the second week of March.
At the moment there are no confirmations yet as to how much the NVIDIA GeForce GTX 1080 Ti will cost. However, based on previous high-end graphics cards released by NVIDIA, this one is not going to be cheap. Gamers can expect to shell out more than $1000 on the product.