NVIDIA's recently launched GeForce GTX 1080 Ti Founder Edition has set a new world record in 3DMark Time Spy benchmark. The NVIDIA card was pushed to the limit by EVGA's in-house overclocking specialist, Kingpin.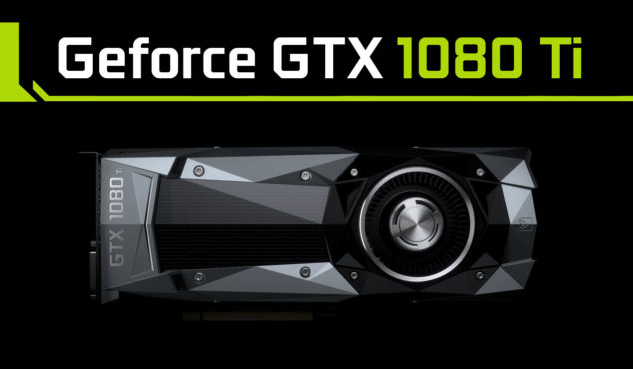 The reference card was overclocked to a whopping 2.5 GHz and beyond, thus breaking the previous record set by the NVIDIA Titan X card.
This unarguably impressive feat underlines the fact that even NVIDIA's reference designs are optimized for serious overclocking potentials. The chip was originally clocked at 2.481 GHz on LN2 cooling. However, just awhile into the test, and the chip had already surpassed the 2.5 GHz mark. The GPU memory was clocked at 12.5 GHz compared to the 11 GHz in the GTX 1080 Ti stock version's GDDR5X memory.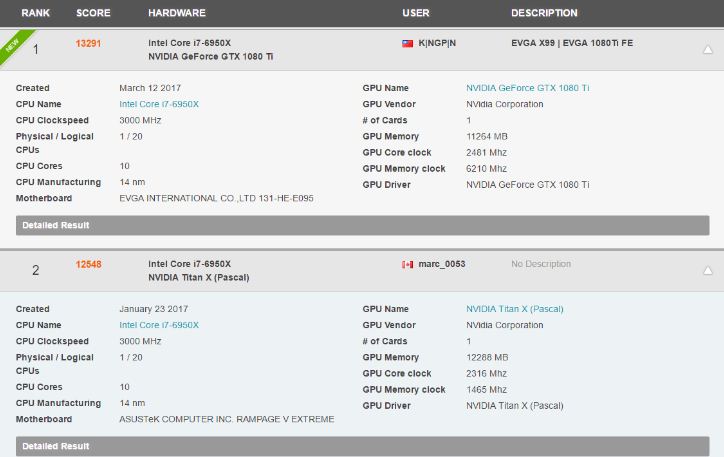 The insane amount of overclocking helped the card achieve a rated pixel fillrate throughput of 197.4 GPixel/s along with a Texture fillrate throughput of 612.7 GTexel/s. The setup used in the test included a Core i7-6950X clocked at 5.1 GHz, 32GB of quad channel DDR4 memory (3200 MHz), as well as an EVGA X99 series motherboard.
With the aforementioned powerful specs, the test setup nailed a score of 13,291 points in 3DMark Timespy benchmark, with the graphics card scoring 13,120 points. That's way past the previous highest score of 12,316 achieved by NVIDIA's Pascal-based Titan X card clocked at 2.3 GHz.
Worth noting, the NVIDIA GeForce GTX 1080 Ti stock version reportedly achieves somewhere around 9000-9500 points at stock clocks.
Interestingly, such is the popularity of the NVIDIA GeForce GTX 1080 Ti Founder Edition that it took barely a few days for the card to be totally sold out. That's rather impressive given the fact that the Founder Edition is actually a premium grade card that sets you back $699.