Nvidia recently revealed two powerful yet affordable graphic cards – the GeForce GTX 1050 and Geforce GTX 1050 Ti. Powered by Nvidia Pascal – the most advanced GPU architecture ever created – these cards will turn your PC into a true gaming rig. The new graphics cards are loaded with innovative Nvidia Game Ready technologies that let you experience the latest gaming titles in all their glory. All this at an amazingly affordable price!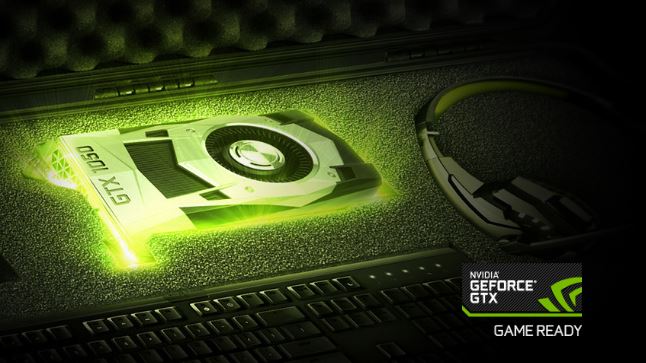 Price
Before we talk about the specs, it's worth mentioning the price at which Nvidia has launched these top-of-the-line cards. The GeForce GTX 1050 is currently available for $109 while the GeForce GTX 1050 Ti is available for just $30 more – at $139. Nvidia wants to make graphics card more affordable and wants to take on competitors by pricing powerful graphics cards at amazingly lower rates.
Specs
The GeForce GTX 1050 Ti has 768 CUDA Cores with 4GB GDDR5 Frame Buffer. The memory speed stands at 7Gbps. Boost clock runs at 1392MHz, a 1.3x increase over GeForce GTX 750 Ti's 1085MHz boost clock. The Geforce GTX 1050, on the other hand, has 640 CUDA cores, 2GB GDDR5 Frame Buffer, 7Gbps memory speed and a boost clock of 1455MHz.
Both cards have 128-bit memory interface width and 112 GB/sec memory bandwidth. Both cards support Simultaneous Multi-Projection, Nvidia Ansel, Nvidia G-SYNC_ready, Nvidia GameStream-Ready, Microsoft DirectX 12 API, Vulkan API and PCIe 3.0. With Graphics Card Power of 75W, both cards reach maximum GPU Temperature of 97-degree celsius.
Performance
The latest cards clearly beat the GeForce GTX 750 Ti hands down. Both cards deliver solid relative performance in graphics-intensive games like Overwatch, Gears of War 4 and Grand Theft Auto V. GeForce GTX 1050 offers nearly 1.5X performance as compared to GeForce GTX 750 Ti while GeForce GTX 1050Ti performs even better – offering about 1.8X performance.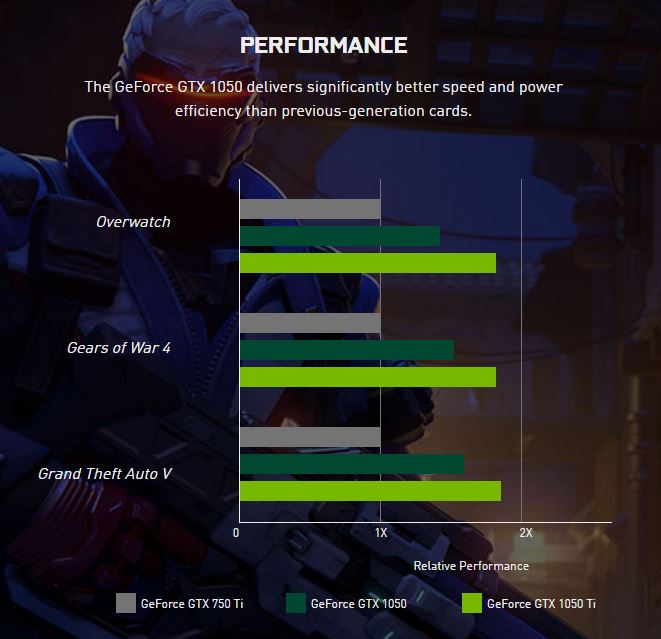 Considering the performance, price and the specs, it looks like GeForce GTX 1050 and GeForce GTX 1050 Ti will soon become very popular. And of course, GeForce GTX 1050 Ti is already being touted as the best affordable graphics card out there! What are your thoughts about the new Pascal-based cards? Post in the comments section.