Driver issues are nightmares. For the user, it's a nightmare because of the amount of frustration it brings. For manufacturers, it's one because of the backlash and abuse they have to face from disgruntled customers. nVidia was the latest company to find itself on the receiving end of such anger and criticism on forums all over the world.
nVidia's GeForce 364.47 drivers triggered reports of cards heating up and even burning on a bunch of websites. The reports were later proven false. The reports about driver crashes, system crashes and blank screens didn't stop coming in and gaming forums and subreddits started going into meltdown.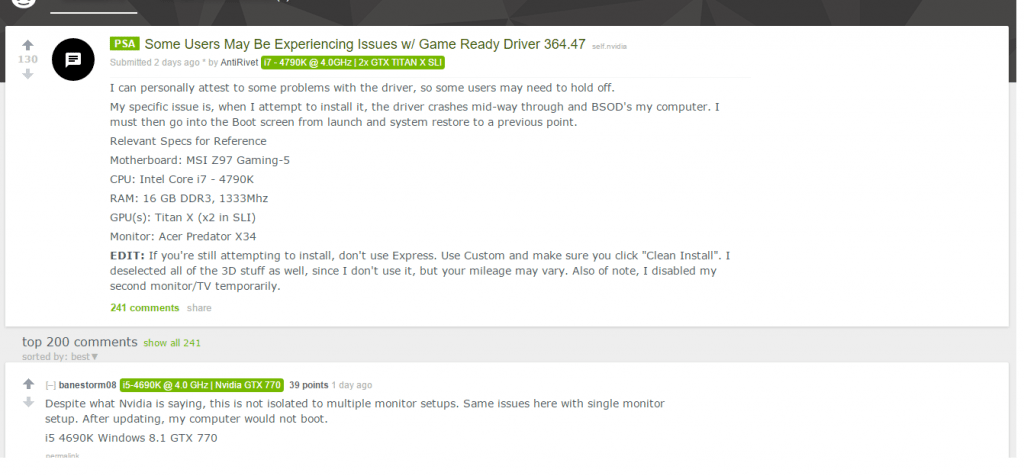 Version 364.47 was soon taken down by nVidia and version 364.51 was put up soon afterwards as its replacement. Reports and rants on popular forums suggest that 364.51 had a mixed response. Some people claim that it's running perfectly well. Others say that the problems still persist. Most of the people in the second category seem to be running Windows 10.
Dual monitor setups have been particularly problematic with a wide majority of users reporting complete PC crashes and blank screens.
As of now, nVidia has switched 364.51's status to beta and urged users to rollback to 362.00, its last stable release.
There is no denying that driver optimization has improved exponentially over the past decade as far as video cards are concerned. Incidents like these, though, just go on to show how vulnerable we still are.
I guess not upgrading to the latest drivers as soon as they're released has its benefits after all.