The Nintendo Switch – known in development as the NX – is an upcoming hybrid video game console developed by Nintendo. This will be the seventh major home console from the company. The Nintendo Switch was officially unveiled in October this year. The company will soon hold a press event in the coming month i.e on Jan 12, 2017, when we will get to know the launch titles, specs, and the exact pricing.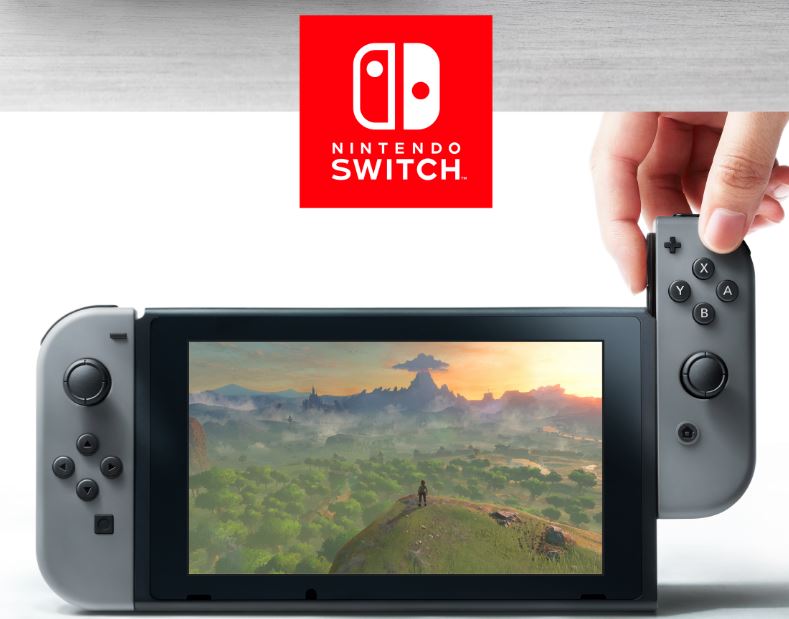 Launch Titles
Before we dive into specs, let's see what launch titles the Nintendo Switch is likely to come with. One of the titles showcased in the console's reveal trailer –  a Splatoon part – is likely to be part of the launch titles. For those who do not know, Splatoon is a third-person shooter video game developed and published by Nintendo for Wii U. The game centers around characters known as Inklings, beings that transform between humanoid and squid forms. The other titles include Skyrim. But given the time-frame before the launch, Skyrim looks too ambitious. But its release as launch title cannot be ruled out.
Two new Mario games have been included in the list of launch titles. One's a mainline 3D platformer, more like the Super Mario Galaxy and the other is expected to be a Mario + Raving Rabbids crossover. We all have grown up playing Mario but very few of us are familiar with Raving Rabbids. Raving Rabidds is a video game which focuses on large, crazy rabbits called Rabbids who like to cause havoc, mischief and yell "BWAAAH!" whenever they are on high adrenaline. A combination of Mario and Raving Rabbids will definitely be fun! Titles such as Legend of Zelda: Breath of the Wild, Pokemon Sun and Moon, NBA 2K, Dragon Quest X and XI and Super Smash Bros are all expected to come soon, but may not make it for launch titles.
Specs
Nvidia has officially announced that the new Nintendo Switch home gaming system will be based on its Tegra chipset. Rumors hint at Nvidia's Tegra X1 chip. But other reports also hint at a possible Nvidia Tegra X2 chip in the upcoming Switch. The high-efficiency scalable processor includes an Nvidia GPU based on the same architecture as the world's top-performing GeForce gaming graphics cards.
Nintendo Switch's gaming experience is also supported by custom software, including a revamped physics engine, advanced game tools and libraries. Nvidia has additionally created new gaming APIs specifically for Nintendo Switch to harness its full performance. Gameplay is further enhanced by hardware-accelerated video playback and custom software for audio effects. The full suite of hardware and software for gaming has been optimized. Nintendo Switch will indeed come with amazing specs.
USB-C and GameCube Emulation on Switch
Rumors also hint at the Switch supporting USB-C. Having the latest USB port would be a welcome change for the upcoming console, since it naturally provides faster charging and transfer speeds. The Switch is also likely to feature GameCube Emulation via the virtual console platform. According to reports, Super Mario Sunshine, Luigi's Mansion and Super Smash Bros. Melee have already been developed for Switch.
Release Date And Price
The Nintendo Switch is scheduled for March 2017 launch. The starting price is expected to be around £200 and the bundled console + game will likely be priced around £250.