There have been reports by many users that Malware-packed Nintendo Switch Emulator Softwares for PC and Mac are available on the internet. These Applications can harm you PC and you could possibly have a security breach. So, stay alerted when you see a PC Emulation download link for Nintendo's latest console.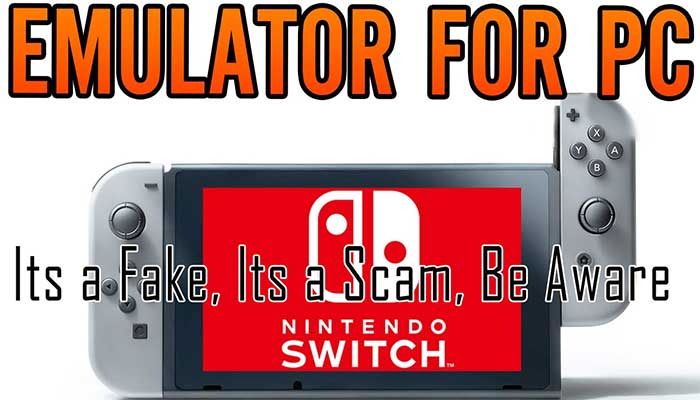 A lot of fake Nintendo Switch emulators for Apple's Mac and PC are scattered around the web. All of these applications tend to trick users into downloading a bunch of applications packed with malware and various survey scams.
Nintendo Switch PC Emulator Links on YouTube
Most of these download links are appearing in the YouTube videos and various other websites. They claim to offer you free Beta versions of the Nintendo Switch emulators for PC and Mac. Reportedly, these links redirect the users to a number of Surveys that trick them into acquiring the emulator unlock codes. In reality, all of these surveys are a scam and are resulting in installing various malicious applications on the systems.
Recently, Norton researchers have spotted that these dodgy listings of malicious software tend to the official Nintendo branding. The fake branding includes Nintendo's logos, Images and more. As part of the latest hoaxes, many scammers are uploading video clips and images of the Nintendo Switch launch title Zelda: Breath of the Wild as well.
Luring and Tricking Offers
Some of the scammers are reportedly trying to trick users into various prize draws and they are offering free Nintendo Switch and PS4 Pro consoles. So, don't fall for any offers like that.
One of the videos on YouTube has over 75,000 views. The video is a detailed tutorial on how to download the "SwitchEmulatorX", another fake and malicious application. The video further claims to guide the users on how they can actually play Zelda: Breath of the Wild on PC after downloading and installing the SwitchEmulatorX on PC. Also, the video tells the users that a new version of the SwitchEmulatorX is in works for the Android and iOS devices, and it'll be available soon.
According to some users, a number of these fake PC and Mac emulators are resulting in downloading a .iso or .dmg packages. These packages are fully customized to run various background installer applications on Windows and Mac OS. So, while these applications are being installed on the computers, most of the users don't even know about them. As suggested by the Norton, the reason behind these fake emulator packages is to claim a huge amount of advertisement revenue via a number of affiliate programs.
So, to be safe from these type of problems, don't ever fall for Nintendo Switch PC or Mac emulators. If there is something like that legitimately built, it'll be available on some trusted and authorized platform. Don't let the scammers play you. Be Smart and neglect any of the dodgy offers of emulators.
Source: IBT