It's a great day for all the Nintendo Switch fans, as the Nintendo Direct Conference is returning tonight. Nintendo is reportedly going to reveal the release of two Nintendo Switch exclusives Splatoon 2 and ARMS as well as loads of new announcements. Here's everything you need to know about the NDC tonight.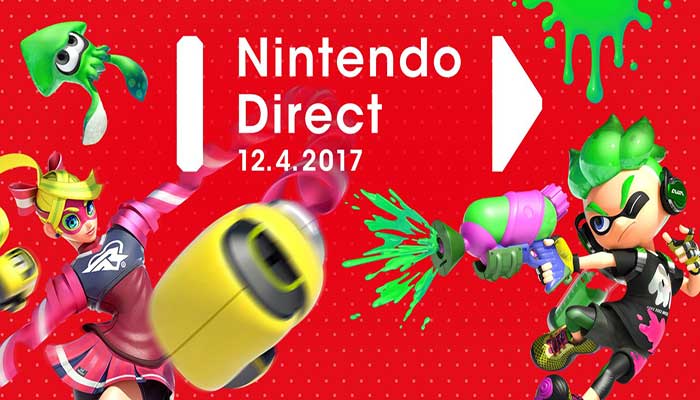 Nintendo Direct Conference Timings
If you are a Nintendo Switch fan, you'll definitely be counting the minutes to the start of Nintendo Direct Conference. The Conference is set for tonight and Nintendo has a lot to discuss with you. All North America fans will be able to be part of this mega event at 6 pm in the evening. However, the fans in the UK will have to stay up a little bit late. The Nintendo Direct Conference will be starting in the UK at 11 pm tonight.
In the Direct Conference, Nintendo will be focusing on the information about Nintendo Switch and Nintendo 3DS. The Nintendo Direct presentation will mainly be focusing on ARMS and Splatoon 2, confirms the message at Official Nintendo website.
Furthermore, a Tweet by Nintendo also confirms it.
"The #NintendoDirect will focus mainly on #ARMS and #Splatoon2 for #NintendoSwitch. Will you be staying up late to join us?"
If you want to follow all the action, head to the Official Nintendo-YouTube page, or visit the Official Nintendo Website. It'll be live-streamed on both of these sources.
Nintendo Will be focussing on Splatoon 2 and ARMS
Most of the Splatoon2 and ARMS fans will be keen to know about the exact release dates for the games. Nintendo is reportedly going to reveal the release dates for both of these games tonight at the Nintendo Direct Conference.
For Nintendo3DS games, it's expected that Nintendo will reveal information about the upcoming game Fire Emblem Echoes: Shadows of Valentia.
In addition, Nintendo is supposedly going to reveal more information about another upcoming Mobile game named as Animal Crossing.
Information about the other upcoming Nintendo Switch titles such as Binding of Isaac+ and Ultra Street Fighter II: The Final Chapter is also reportedly coming out tonight at the Nintendo Direct Conference.
Hopefully, tonight's Nintendo Direct Conference will bring a lot of good news about the Nintendo Switch and Nintendo 3DS consoles as well as a number of fantastic upcoming titles. So, keep an eye on the clock, because events like this one are rare, to be honest.