Nikki Reed and Ian Somerhalder marriage are rumored to be on the rocks despite the couple being overjoyed with their baby coming soon. Incidentally, Nina Dobrev has denied having any relationship with her "The Vampire Diaries" co-star Paul Wesley. Check out more what exactly is affecting Reed and Somerhalder marriage!
According to MStarnews, Nikki Reed and Ian Somerhalder are excited as they are soon going to be parents for the first time. However, the couple is now facing financial problems says the source. Even though the 38-year-old actor has been in the field of acting for almost two decades, he mostly got fame and money from "The Vampire Diaries."
Nikki Reed And Ian Somerhalder Facing Financial Crisis?
Reports indicate that as of now, the actor does not have any work and Reed is the only person who is currently bringing in the money. Also, Somerhalder has not been successful at getting another project or acting work like his other co-stars from the series.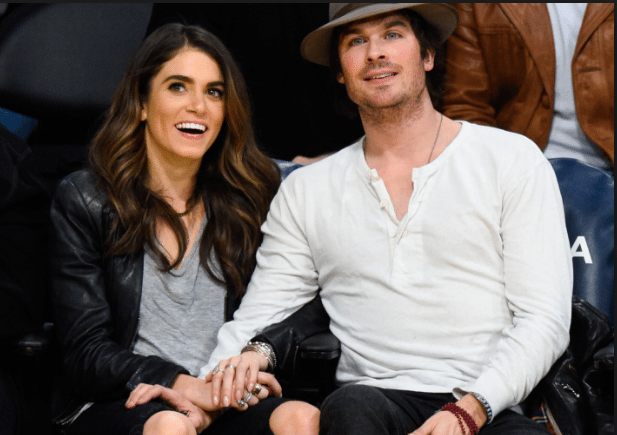 Rumors suggest that this has been causing strain in the marriage of Nikki Reed and Ian Somerhalder. With the baby on the way, the expenses are sure to escalate which is worrying "The Twilight" actress. As of now, the career of Somerhalder is on pause and it is quite possible that he may not get any work in the future.
Nina Dobrev Is Single; Is She Waiting For Somerhalder?    
Somerhalder is known mostly for his role as Damon Salvatore in the Vampire series in which he starred against Nina Dobrev for around four seasons. The actress returned again for the finale triggering rumors about Reed being insecure about their reunion on the set.
To the surprise of many, the closeness between Dobrev and Wesley, another lead star of the show resulted in their affair rumors. However, the Bulgarian-Canadian actress has denied having an affair with Wesley, reports Blasting News.
So, it means that Nina Dobrev is single. But does that also mean that she is waiting for her ex-boyfriend Ian Somerhalder? If the rumors about the strain in the marriage of Nikki Reed and Ian Somerhalder are true then there is a strong possibility that "The Vampire Diaries" actors may come together yet again.
Also Read: Hulu's Live TV Service And Streaming App Launched On iOS App Store And Google Play Store