Google Pixel and Pixel XL were the first phones to come with Google Assistant. Google launching Pixel and Pixel XL with some Pixel-exclusive features probably helped the search giant to boost sales of its premium devices. But then, Pixel-specific features like Google Assistant may not be exclusive to Pixel phones anymore. Owing to user requests, Google recently introduced Pixel's "fingerprint swipe" gesture to Nexus 5X. And now, Nexus 6P and Nexus 5X users have something more to cheer about. Very soon, Nexus 6P and Nexus 5X will get the very popular Google Assistant.
Google Assistant coming on Nexus 5X and Nexus 6P devices
According to reports, Google is likely to bring Pixel's Assistant to Nexus 5X and 6P very soon. Stephen Hall, in his tweet, mentions that he was recently told the next major update will bring the Assistant to Nexus 5X/6P. The Google Pixel and Pixel XL users are literally in love with Google Assistant. On Pixel phones, you can find answers and get things done while on-the-go. You can set a reminder to stop by the store, pull up your travel photos or ask the assistant to even make a dinner reservation for yours. Pixel recognizes "Ok Google" instantly to help you get started with your own digital assistant. Now that Google has successfully established the market for Google Pixel and Google Pixel XL phones, the company's move of introducing Pixel-specific features to other phones is being seen as strategic.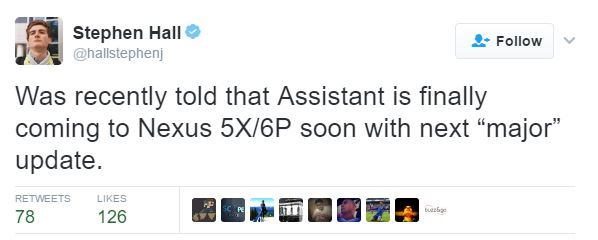 Strategic move by Google?
Not many Android users can afford the premium Pixel and Pixel XL phones. If Google continues to restrict the Assistant and other features only to Pixel phones, it could be limiting its own ecosystem functionality. Many Android fans were disappointed to know that Google Assistant is exclusive to Pixel phones and expressed their concerns as to why other Android phones cannot have the same features. It looks like Google is now granting their wish. Introducing the Assistant on more devices will help Google expand its user base. It's a win-win situation for Google now.