An all new Yahoo Messenger for Windows and Mac has been made available starting today. This comes six months after a revamped Messenger app on mobile and the Web was released. Austin Shoemaker, the senior director of product management at Yahoo announced the news on a blog post today.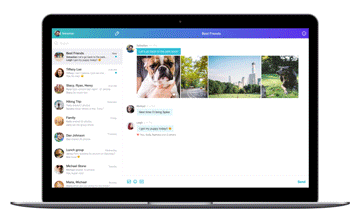 The new Yahoo messenger app is looking pretty sleek with a brand new interface and a host of new features for improving the overall experience. It comes with support for animated GIFs, likes, and a handy "unsend" feature.
"Want to share photos from your latest vacation or simply spice up a message? Save precious time with our drag and drop feature to share multiple photos at once," Shoemaker said. "Then, spread the love by "liking" any posts or images that stand out to you. If you'd rather reply with a GIF, you can easily search and send GIFs to your heart's content. Pro tip: play GIF roulette and type /gif + any search term."
Following is a rundown of features for new Yahoo Messenger for Windows and Mac:
Share more photos, faster – Instant, high-resolution photo sharing lets you share your entire weekend at once in a photo carousel

Finally, take backs! – Wish you could take back that message or photo? Tap "Unsend" to remove it from the conversation

Say it with a GIF – Why limit your reaction to an emoji? Express yourself with animated GIFs

Your groups, your way – Start one-on-one conversations or create group chats simply using your contacts

Show some love with a "like" – It's easier than ever to respond to messages and photos with a simple "like."

Chat right from your email – Sign into Yahoo Mail and check to see if the new Yahoo Messenger
is available in your inbox. If it's not now, it will be shortly!
As far as the old app is concerned, the same will stop functioning after 5th August so it's better to upgrade now. Do share your experience of the new messenger in the comments section below.