Thor – the 2011 American Superhero film based on Marvel Comics – was a huge financial success and received a positive response from film critics. The first movie in the Thor series released on May 6, 2011 in the United States after its premiere on April 17, 2011 in Sydney, Australia. Two years later, the sequel – Thor: The Dark World released on November 8th 2013. And the third film – Thor: Ragnarok is all set to be released in about a year from now – November 3, 2017. The expectations for the third movie are quite high. In what comes as a pleasant surprise, the new Thor costume has been revealed on the sets of Ragnarok.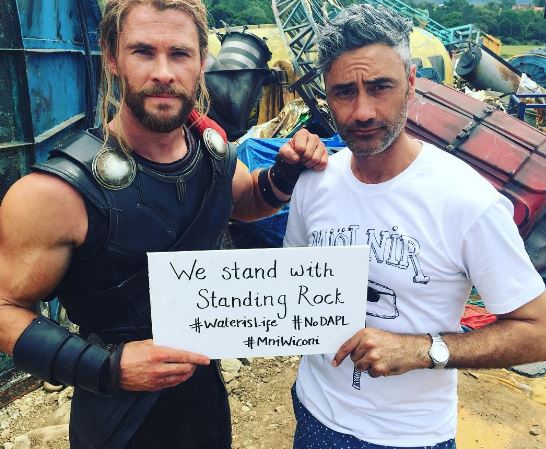 Chris Hemworth has posted the photo of him wearing the majestic Thor: Ragnarok costume on the sets of the upcoming film. The third installment of the movie will feature the return of Chris Hemsworth as God of Thunder. Loki will be played by Tom Hiddleston and Odin will be played by Sir Anthony Hopkins. Mark Ruffalo will play the role of Hulk while Idris Elba will play the role of Heimdall. Karl Urban continues to add to the fury and rage of thunder as Skurge. New Villain Hela will be played by Cate Blanchett and Jeff Goldblum will play the eccentric Grandmaster. The film also features Tessa Thompson, who will bring Valkyrie back to life in the upcoming third installment.
The movie is directed by New Zealand film director, writer, actor, painter and comedian Taika Waititi and produced by Kevin Feige. Stephany Folsom, Craig Kyle, Eric Pearson and Christopher Yost contribute to the screenplay. Louis D'Esposito, Brad Winderbaum, Victoria Alonso, Stan Lee and Thomas M Hammel are the executive producers of the movie.
Patience until November 3, 2017 when God of Thunder descends on Earth!