Perhaps a lot of people are now sick and tired of hearing constant news about the iPhone 8. However, there is just something that makes the next generation Apple smartphone so interesting. Apart from representing ten years of iPhone history, it is also rumored to feature a plethora of improvements not usually found on an iPhone. Now, it seems that an earlier rumor about the iPhone 8's display is being confirmed by a new report.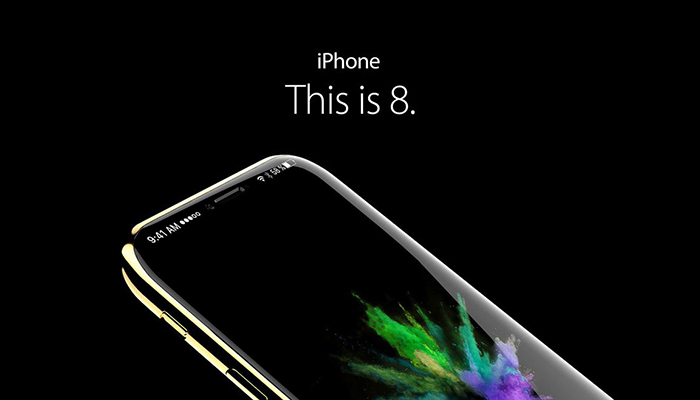 According to The Wall Street Journal, the iPhone 8 will indeed sport a curved OLED display. Sources close to Apple claims that Tim Cook will launch three iPhones this year and that one of them will have a different display. Apart from the curved OLED display, the report also confirms other rumors about the smartphone, one thing, in particular, is the home button.
It was rumored a few weeks ago that Apple will forgo with the home button altogether in lieu of the "function area". This function area will sit at the bottom of the iPhone 8 screen. That being said, the replacement of the home button brings out a dilemma as the Touch ID hardware will not be available anymore. However, the same report claims that Apple will replace the said hardware with an iris scanning system similar to the Samsung Galaxy Note7.
One final thing worth mentioning is that Apple is also planning on replacing its Lightning connector with a much more universal USB Type-C connector. However, this statement can be a source of much contentions as it was not previously reported from any media sites. Even Japanese news site Mac Otakara made no mentions of the Lightning port being removed.
In a rather weird way, the report did not mention anything about wireless charging at all. However, many experts, including KGI Securities' Ming-Chi Kuo, believes that Apple will include the technology on the iPhone 8 as it will feature a dual glass design. Nevertheless, it would seem that the report forgot to mention the thing even in passing.
All in all, it looks like the iPhone 8 will be a premium phone indeed. At the moment, various sources claim that the phone will be priced in excess of $1,000. Furthermore, even though production has already been started, Apple is still pushing for a September release.