We recently reported that the new MacBook Pro will feature Touch ID Power Button and OLED Touch Panel.  As now confirmed by Bloomberg, Apple isn't planning on unveiling the new MacBook Pros at the September 7th iPhone launch event. Initial reports suggested the the MacBook Pro new features will also be highlighted at the iPhone 7 launch event. But it doesn't look like Apple is planning one for MacBook Pro. The Cupertino company may refresh the MacBook Pro model without an onstage event.
It was KGI Securities analyst Ming-Chi Kuo who first revealed that Apple was planning to replace the function keys on the MacBook Pro with an OLED touch bar. That Apple will replace the function keys with OLED strip is now confirmed. But it may not highlight these features at the iPhone 7 launch.
In addition to Touch ID and OLED strip, the new MacBook Pro will also feature Type C USB. First supply chain analysts at KGI securities spotted evidence of the move to USB-C for MacBook Pros. Soon after, a photo leak allegedly showed the unibody cutout to provide space for up to four USB-C Ports.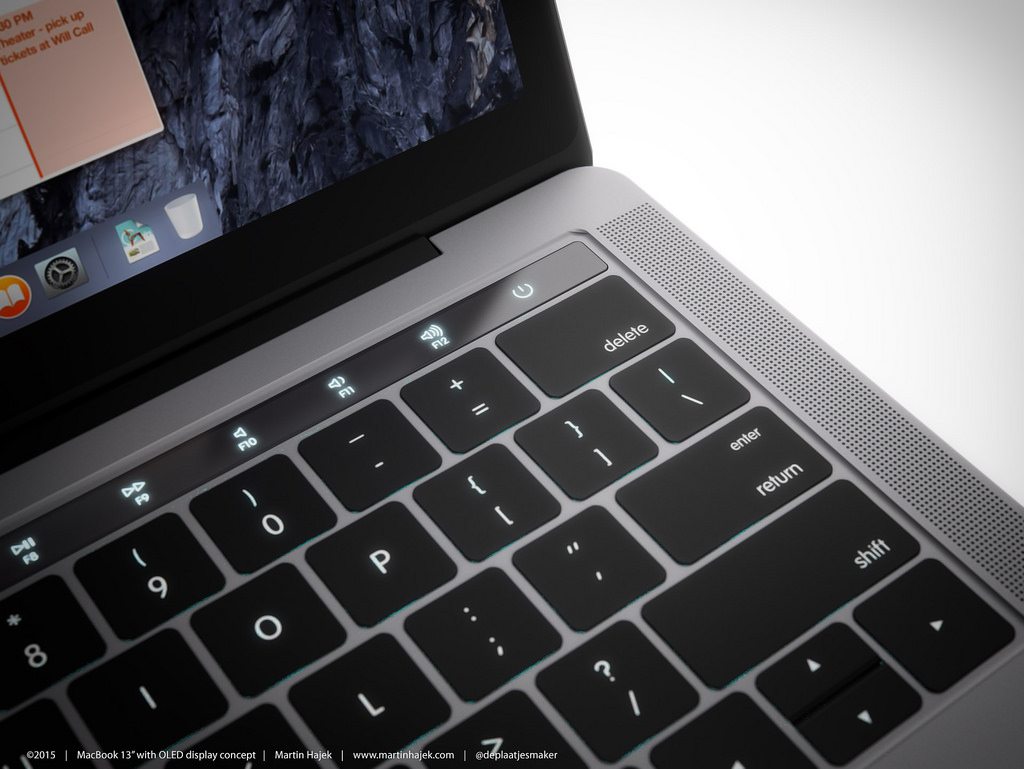 "Apple has tested versions of the upcoming laptops that integrate the scanner beside the new function key display" said Bloomberg's Gurman.
OLED Function Keys
It's more or less confirmed that Apple is planning on replacing the function key with OLED touchscreen in the next MacBook Pro keyboard. It has been confirmed that the upcoming macOS Sierra provides support for the OLED hardware. So don't be surprised to see the OLED touchscreen replacing the function key strip in the next MacBook Pro. Bloomberg reports that it will be a strip-like screen that shows functions on a task-by-task basis and will simplify keyboard shortcuts. The panel could show media controls when iTunes is open, or cut and paste commands when Microsoft Word is running.
Touch ID
As reported by 9to5mac, Touch ID will most likely make its appearance in the new MacBook Pro. This will allow unlocking with user's fingerprint, just as in the iOS devices. It remains to be seen how the Touch ID feature will be integrated into the OLED screen. With Apple unveiling Apple Pay for the web and now Touch ID sensor featuring in MacBook Pro, Apple Pay functionality can very well be used on MacBook Pro when macOS Sierra launches this fall.
MacBook fans have widely criticized Apple for not bringing in any changes in the MacBook model for about four years now. Looks like all MacBook fans are eagerly waiting for the new features on MacBook Pro. Though the iPhone event is scheduled to happen on 7th September as rumored, MacBook Pro OLED touchscreen feature may never be highlighted by Apple at the event. In fact, the feature updates for MacBook Pro may seep in silently without Apple announcing them in an onstage event.