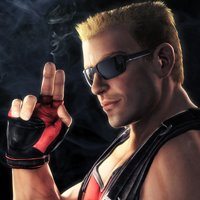 Okay we here at MobiPicker love all the Duke games, Duke Nukem, the king, with all his bravado and masculinity is someone to look up to if you're into that whole testosterone thing and he gets all the ladies and is back in time from kicking some alien butt to rub some of that male ego on all the ladies he just saved from being abducted. Sure, Duke Nukem Forever was in no way a return for the King but it wasn't a bad game, we really loved that game and were hoping for a sequel since 2011 and it appears it's finally happening.
http://dukenukem.com/?age-verified=71bc72b73f
Head on over to dukenukem.com, lie about your age (check the Remember Me tick box since you're a diehard Duke fan like us and plan to keep on revisiting the site until some exciting news arrives) and see the countdown ticking down. 7 days from now Gearbox Software plan to release something related to DukeNukem and from the looks of it could most probably be a new Duke game since a Duke Nukem Forever DLC or some flashy high-resolution remake of the classics doesn't make sense at this point because HD remakes of Duke Nukem 3D are already present and nobody would really want to try a Duke Nukem Forever DLC.
.@DanBilzerian – Thanks for holding down the world of babes and guns while I was away. You're a good kid.

— Duke Nukem (@dukenukemgame) August 25, 2016
But this isn't where it ends. The Duke Nukem twitter account has just been created a day ago and is tweeting about some major revelation in the coming days. Not only this, Duke Nukem official Facebook account has also made its first posts since 2012 (with a warning to some of those sensitive millennials who might get offended at the satirical sexist stereotypes perpetuated in the Duke games).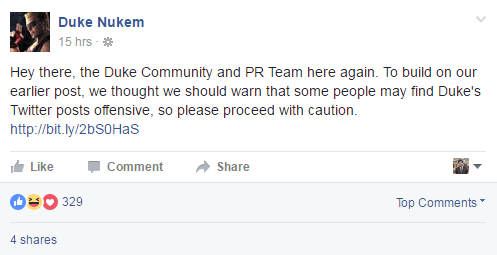 All that we can say now is that please don't ruin this for us. It's been forever since a Duke game graced our computer scenes and with all the political correctness going on in the media, the upcoming Duke game is sure to turn some heads and start an all-new media buzz.