Deal Alert: 49% Off on ExpressVPN
Touted as #1 VPN in the world,
ExpressVPN
is now offering 49% off & an additional 3-months of service on its annual plans.
ExpressVPN is widely known as the fastest and most secure VPN in the industry. With over 3,000 servers in 90+ countries, it is capable to unblock all geo-blocked services including Netflix, Amazon Prime Video, HBO+, and BBC iPlayer.
ExpressVPN app is available for nearly all the devices including Windows, macOS, Android, iOS, browsers, Firestick, and gaming consoles.
NBA 2K17 received patch 1.06 recently. The patch added visual improvements and several fixes to MyPark and also fixed an issue where pass icons were not appearing for users playing in 4K on the PS4 Pro. The patch addressed a case where a MyTEAM card that was sent to the Auction House could still appear in lineup menu as being available. More importantly, the patch sped up CPU's ability to get into its offensive sets and run plays. Also, a number of performance improvements to solidify the Pro-Am experience were part of the patch, including fixes to the issue that would cause some users to hang when attempting to hope from one park to another. The other general fixes include fixes to an indefinite simulating screen that would occur when MyPLAYER retired after completion of his 20-year MyCAREER and fixes to MyTEAM challenge case where the in-game overlay would claim the challenge was not successfully completed, even when it actually was.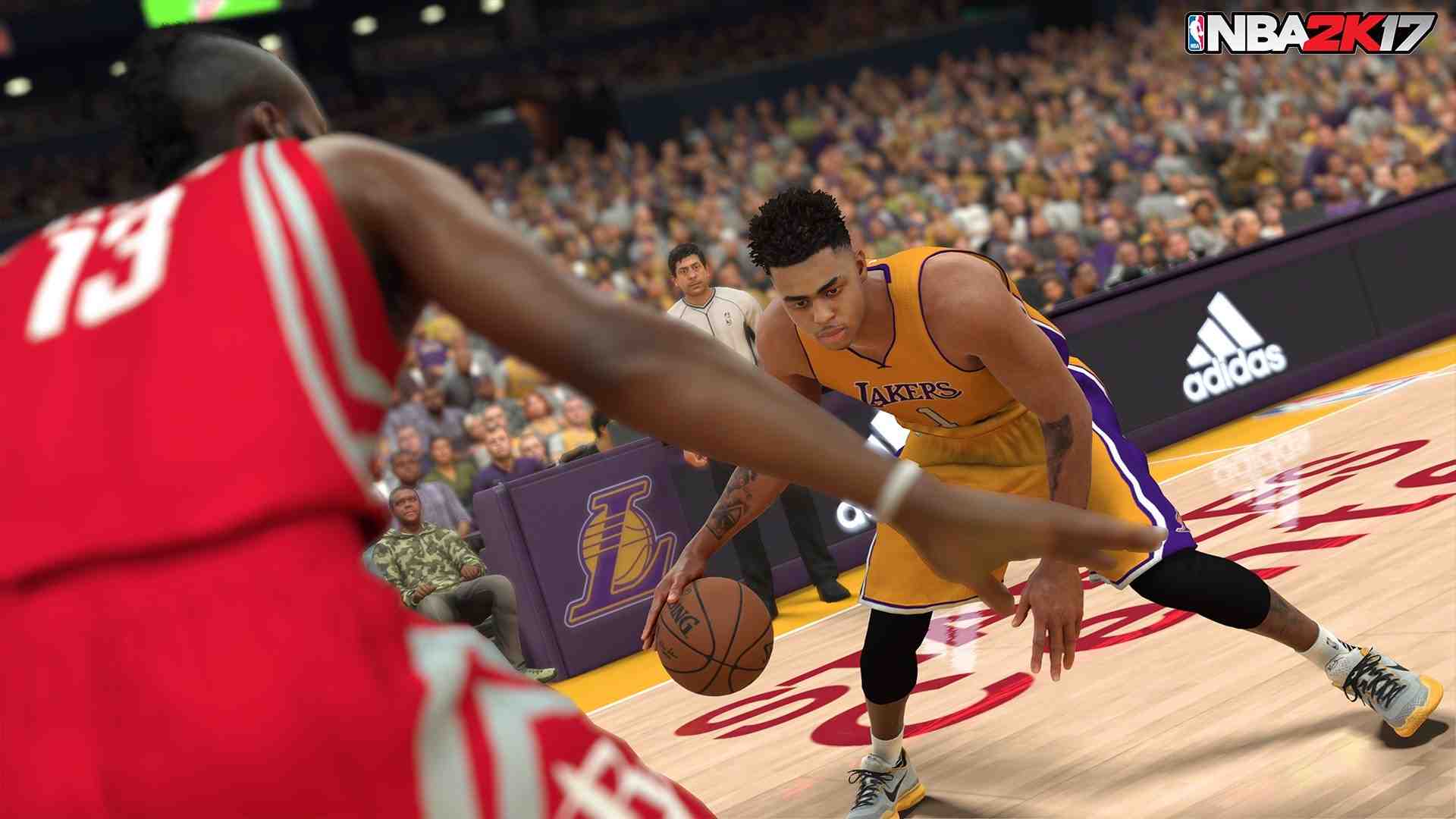 NBA 2K17 received a November 30 Roster Update, bringing in several changes. Here's the complete list.
Atlanta Hawks
Dwight Howard: 87 OVR (+1)
Paul Millsap: 84 OVR (-2)
Dennis Schroder: 77 OVR (-1)
Kent Bazemore: 77 OVR (-1)
Thabo Sefolosha: 76 OVR (+1)
Kris Humphries: 74 OVR (+1)
Mike Muscala: 71 OVR (-1)
DeAndre Bembry: 68 OVR (-1)
Brooklyn Nets
Brook Lopez: 82 OVR (+1)
Sean Kilpatrick: 78 OVR (+2)
Trevor Booker: 75 OVR (+2)
Randy Foye: 72 OVR (+1)
Rondae Hollis-Jefferson: 70 OVR (-2)
Boston Celtics
Isaiah Thomas: 87 OVR (+1)
Al Horford: 84 OVR (-1)
Marcus Smart: 75 OVR (-1)
Kelly Olynyk: 75 OVR (-1)
Jaylen Brown: 74 OVR (-1)
Amir Johnson: 74 OVR (-2)
Gerald Green: 72 OVR (-1)
Jonas Jerebko: 71 OVR (-1)
Terry Rozier: 69 OVR (-1)
Demetrius Jackson: 67 OVR (+1)
Charlotte Hornets
Kemba Walker: 87 OVR (+1)
Cody Zeller: 78 OVR (+1)
Michael Kidd-Gilchrist: 78 OVR (-1)
Marvin Williams: 76 OVR (-1)
Spencer Hawes: 75 OVR (+1)
Roy Hibbert: 75 OVR (+1)
Frank Kaminsky: 74 OVR (+1)
Marco Belinelli: 73 OVR (+1)
Chicago Bulls
Jimmy Butler: 90 OVR (+2)
Taj Gibson: 77 OVR (+1)
Rajon Rondo: 77 OVR (-2)
Bobby Portis: 73 OVR (-1)
Jerian Grant: 71 OVR (-1)
Denzel Valentine: 68 OVR (-4)
R.J. Hunter: 64 OVR (-1)
Cleveland Cavaliers
Kevin Love: 85 OVR (+1)
J.R. Smith: 75 OVR (-2)
Mike Dunleavy: 72 OVR (-1)
Jordan McRae: 69 OVR (-1)
DeAndre Liggins: 67 OVR (-1)
Dallas Mavericks
Dirk Nowitzki: 82 OVR (-2)
Dwight Powell: 75 OVR (+1)
Andrew Bogut: 75 OVR (-1)
Dorian Finney-Smith: 71 OVR (+6)
Jonathan Gibson: 71 OVR (+3)
Denver Nuggets
Wilson Chandler: 81 OVR (+4)
Danilo Gallinari: 79 OVR (-1)
Will Barton: 77 OVR (-1)
Jamal Murray: 76 OVR (+1)
Nikola Jokic: 76 OVR (-3)
Emmanuel Mudiay: 75 OVR (-1)
Darrell Arthur: 73 OVR (-2)
Detroit Pistons
Kentavious Caldwell-Pope: 78 OVR (-1)
Jon Leuer: 76 OVR (+1)
Beno Udrih: 74 OVR (+2)
Boban Marjanovic: 73 OVR (-2)
Aron Baynes: 72 OVR (-3)
Golden State Warriors
Kevin Durant: 95 OVR (+1)
Stephen Curry: 93 OVR (-1)
Draymond Green: 88 OVR (-2)
Andre Iguodala: 79 OVR (-1)
Ian Clark: 75 OVR (+4)
Zaza Pachulia: 75 OVR (-1)
David West: 74 OVR (-1)
Shaun Livingston: 74 OVR (-2)
Kevon Looney: 72 OVR (+2)
JaVale McGee: 70 OVR (-2)
James Michael McAdoo: 67 OVR (-1)
Houston Rockets
James Harden: 93 OVR (+2)
Clint Capela: 79 OVR (+2)
Ryan Anderson: 75 OVR (-2)
Sam Dekker: 74 OVR (+4)
Corey Brewer: 72 OVR (-1)
Montrezl Harrell: 71 OVR (+1)
K.J. McDaniels: 67 OVR (-1)
Indiana Pacers
C.J. Miles: 79 OVR (+3)
Jeff Teague: 78 OVR (+1)
Monta Ellis: 76 OVR (-1)
Glenn Robinson III: 74 OVR (+5)
Lavoy Allen: 70 OVR (-2)
Los Angeles Clippers
Chris Paul: 92 OVR (+1)
Austin Rivers: 75 OVR (+1)
Raymond Felton: 74 OVR (-1)
Wesley Johnson: 72 OVR (-1)
Los Angeles Lakers
Louis Williams: 80 OVR (+3)
Jordan Clarkson: 78 OVR (+1)
Nick Young: 76 OVR (+2)
Timofey Mozgov: 76 OVR (+1)
Tarik Black: 75 OVR (+5)
Brandon Ingram: 74 OVR (-2)
Memphis Grizzlies
Mike Conley: 86 OVR (+1)
Tony Allen: 77 OVR (-1)
JaMychal Green: 72 OVR (-1)
Troy Williams: 69 OVR (+4)
Troy Daniels: 69 OVR (-1)
Miami Heat
Hassan Whiteside: 87 OVR (+1)
Justise Winslow: 77 OVR (+1)
Dion Waiters: 75 OVR (+2)
James Johnson: 73 OVR (+1)
Rodney McGruder: 69 OVR (+2)
Luke Babbitt: 68 OVR (-1)
Milwaukee Bucks
Giannis Antetokounmpo: 87 OVR (+2)
Jabari Parker: 80 OVR (+1)
John Henson: 75 OVR (+1)
Mirza Teletovic: 75 OVR (-1)
Tony Snell: 73 OVR (+1)
Matthew Dellavedova: 73 OVR (-2)
Malcolm Brogdon: 72 OVR (+2)
Miles Plumlee: 70 OVR (-1)
Minnesota Timberwolves
Karl-Anthony Towns: 87 OVR (-1)
Zach LaVine: 80 OVR (+1)
Ricky Rubio: 75 OVR (-2)
Jordan Hill: 74 OVR (-2)
Tyus Jones: 73 OVR (+2)
Cole Aldrich: 73 OVR (-1)
Adreian Payne: 71 OVR (+2)
John Lucas: 67 OVR (-1)
New Orleans Pelicans
Anthony Davis: 94 OVR (+3)
Jrue Holiday: 80 OVR (+1)
Tim Frazier: 75 OVR (+1)
Terrence Jones: 75 OVR (+1)
Omer Asik: 74 OVR (-1)
Dante Cunningham: 72 OVR (+1)
Alexis Ajinca: 71 OVR (-2)
Buddy Hield: 70 OVR (-5)
New York Knicks
Carmelo Anthony: 87 OVR (-1)
Kristaps Porzingis: 84 OVR (+2)
Brandon Jennings: 76 OVR (+1)
Joakim Noah: 76 OVR (-1)
Kyle O'Quinn: 75 OVR (-1)
Justin Holiday: 72 OVR (+2)
Willy Hernangomez: 71 OVR (+1)
Sasha Vujacic: 68 OVR (-1)
Oklahoma City Thunder
Russell Westbrook: 95 OVR (+1)
Steven Adams: 80 OVR (-1)
Enes Kanter: 78 OVR (-2)
Alex Abrines: 69 OVR (-1)
Kyle Singler: 69 OVR (-2)
Domantas Sabonis: 69 OVR (-3)
Semaj Christon: 66 OVR (+1)
Orlando Magic
Serge Ibaka: 80 OVR (+1)
Bismack Biyombo: 74 OVR (-2)
Aaron Gordon: 74 OVR (-3)
C.J. Watson: 71 OVR (-1)
Mario Hezonja: 70 OVR (-4)
Philadelphia 76ers
Joel Embiid: 83 OVR (+3)
Jahlil Okafor: 78 OVR (-1)
Jerryd Bayless: 75 OVR (+1)
Sergio Rodriguez: 75 OVR (-1)
Nik Stauskas: 74 OVR (+5)
Hollis Thompson: 73 OVR (+1)
Robert Covington: 73 OVR (-2)
Richaun Holmes: 72 OVR (+2)
Dario Saric: 72 OVR (-2)
Phoenix Suns
Devin Booker: 80 OVR (-1)
T.J. Warren: 79 OVR (-1)
Alex Len: 76 OVR (+1)
Leandro Barbosa: 75 OVR (+2)
Jared Dudley: 74 OVR (-2)
Tyson Chandler: 73 OVR (-1)
P.J. Tucker: 73 OVR (-2)
Alan Williams: 71 OVR (+1)
Dragan Bender: 70 OVR (-2)
Portland Trailblazers
Damian Lillard: 90 OVR (+1)
C.J. McCollum: 84 OVR (+1)
Al-Farouq Aminu: 78 OVR (+1)
Maurice Harkless: 76 OVR (+4)
Allen Crabbe: 73 OVR (-2)
Ed Davis: 73 OVR (-4)
San Antonio Spurs
Kawhi Leonard: 94 OVR (-1)
LaMarcus Aldridge: 86 OVR (-2)
Pau Gasol: 83 OVR (-1)
Manu Ginobili: 77 OVR (-2)
Tony Parker: 77 OVR (-3)
David Lee: 75 OVR (+1)
Jonathon Simmons: 72 OVR (+2)
Kyle Anderson: 72 OVR (-2)
Nicolas Laprovittola: 68 OVR (+1)
Sacramento Kings
DeMarcus Cousins: 92 OVR (+2)
Rudy Gay: 82 OVR (+1)
Darren Collison: 78 OVR (+1)
Garrett Temple: 75 OVR (+1)
Kosta Koufos: 73 OVR (-1)
Arron Afflalo: 73 OVR (-2)
Omri Casspi: 72 OVR (-1)
Matt Barnes: 72 OVR (-2)
Ben McLemore: 71 OVR (-1)
Toronto Raptors
DeMar DeRozan: 89 OVR (+1)
Jonas Valanciunas: 81 OVR (-1)
Terrence Ross: 77 OVR (+1)
Norman Powell: 75 OVR (+1)
Patrick Patterson: 75 OVR (-1)
Cory Joseph: 74 OVR (-1)
Pascal Siakam: 72 OVR (+3)
Jakob Poeltl: 70 OVR (-1)
Utah Jazz
Gordon Hayward: 85 OVR (+1)
Rudy Gobert: 82 OVR (+1)
Joe Johnson: 77 OVR (-1)
Trey Lyles: 73 OVR (+1)
Dante Exum: 73 OVR (-1)
Jeff Withey: 73 OVR (-1)
Washington Wizards
Bradley Beal: 80 OVR (+1)
Otto Porter: 79 OVR (+3)
Marcin Gortat: 78 OVR (-1)
Markieff Morris: 75 OVR (-1)
Tomas Satoransky: 72 OVR (-1)
Trey Burke: 72 OVR (-1)
Jason Smith: 71 OVR (-2)
Andrew Nicholson: 71 OVR (-2)
Marcus Thornton: 71 OVR (-2)
Sheldon McClellan: 67 OVR (+1)