Yes! you can play as the infamous "hand-ball" Thierry Henry in the upcoming NBA 2k17 game. NBA 2k17 recently revealed its player ratings with LA Lakers dominating the top ranks. Julius Randle, D'Angelo Russell, and Larry Nance Jr. have all revealed their ratings (77, 78 and 75 respectively). A rating of 90 or above is rare. At the moment, it might go to Indiana Pacer's Paul George who will also be featured on the box cover. NBA 2k17 players will now include Thierry Henry as well.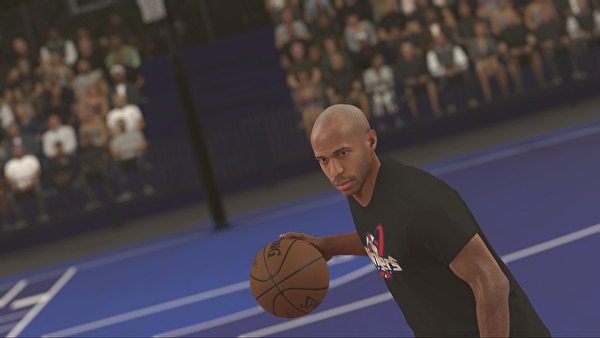 NBA 2k17 Players will include Thierry Henry
It makes absolutely no sense. But, like we said before, we don't care. Thierry Henry has been a big fan of basketball most of his life and has accustomed the game to football. As a fan of the National Basketball Association (NBA), Henry is often seen with his friend Tony Parker at games when not playing football. Henry stated in an interview that he admires basketball, as it is similar to football in pace and excitement. Having made regular trips to the NBA Finals in the past, he went to watch Parker and the San Antonio Spurs in the 2007 NBA Finals; and in the 2001 NBA Finals, he went to Philadelphia to help with French television coverage of the Finals as well as to watch Allen Iverson, whom he named as one of his favorite players.
Thierry has also been a great admirer of Kobe Bryant. He interviewed Kobe once for the NBA.
"I've always been a great admirer of you. For me, I like that killer instinct which you always had. Since I retired, I finally have a chance to say this because I never wanted to say this before. I never wanted to announce it before and wanted to wait for when you retire."
Thierry Henry is also responsible for the infamous handball against Ireland when he scored a goal for France in the 2009 World Cup Qualifier using his hands and didn't get a card from the referee.
Well, it seems we'll be putting those hands of his to good use as he has been added as one of the NBA 2k17 players. We'll keep you updated with more NBA 2k17 players news and updates. Stay tuned to MobiPicker,