We will tell you the best way to use in our NBA 2k17 Hall of Fame Dimer Badge Tutorial. Keep in mind that it will still be a grind. There's no shortcut here. However, you will at least be working more efficiently towards getting that badge.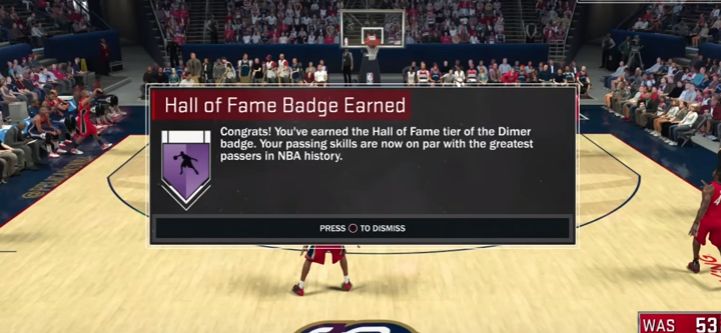 NBA 2k17 Hall of Fame Dimer Badge Tutorial
You need 1200 assists to get that Dimer badge. Assists in simulated games do not count. So, you have to be playing the game and get assists to obtain the Dimer badge.
The best way is to once again use Justice and Orange Juice. Link both of them together such that an orange marker appears around the player base. After that, all you have to do is cut to the court and throw the ball at him and he will put it in the basket. Keep doing that and eventually, you will hit that 1200 assist milestone.
We've tried this hundreds of times and so far Justice only missed two times. Hold on D-Pad to activate Orange Juice and throw hoop to him.
We also did a tutorial on how to get the Ankle Breaker badge. You can check that out too. That also required a link between Justice and Orange Juice. Getting achievements in NBA 2k17 is a grind no matter what efficient way you choose it. So, keep that in mind when you plan to set some time aside to get the achievement.
NBA 2K17 is a basketball simulation video game developed by Visual Concepts and published by 2K Sports. It is the 18th installment in the NBA 2K franchise and the successor to NBA 2K16. It was released worldwide on September 20, 2016, for Microsoft Windows, PlayStation 4, PlayStation 3, Xbox One, and Xbox 360. Players who pre-ordered the game received it on September 16, 2016.
Let us know what you think of our NBA 2k17 Hall of Fame Dimer Badge Tutorial.