Since Your Name was released, fans have been eagerly waiting for its dubbed version to arrive. The movie was aired in the theaters of Japan in August and was a big hit. Because of its success, the creator of the movie decided to hand it over to FUNimation Entertainment, who will work on the dubbed version. In fact, their work is almost completed and they have released the very first trailer of the dubbed version of Your Name anime movie.
The trailer is just like the first one as it gives fans a glimpse at what they can expect from the movie. The only difference is that the previous trailer was in Japanese, while this one is in English. The trailer is released for the US and UK screening. The popular British anime distribution company, Anime Limited is going to handle the screenings of UK. The English dubbed version of Your Name will be premiered in the UK on November 18, 2016.
Your Name Anime Movie English Dub Cast
Along with this, the cast of the English dubbed version was also revealed. Michael Sinterniklaas and Stephanie Sheh are going to voice the two main characters of the movie, Tachibana Taki and Miyamizu Mitsuha. Here is the renaming English dub voice cast.
Kyle Hebert is going to voice Katsuhiko Teshigawara
Cassandra Morris is going to voice Sayaka Natori
Ben Pronsky is going to voices Tsukasa Fujii
Ray Chase is going to voice Shinta Takagi
Catie Harvey is going to voice Yotsuha Miyamizu
Scott Williams is going to voice Toshiki Miyamizu
Michelle Ruff is going to voice Futaba Miyamizu
Marc Diraison is going to voice Taki's Father
H.D. Quinn is going to voice Teshigawara's Father
Michelle Ruff is going to voice Teshigawara's Mother
Katy Vaughn is going to voice Yukari Yukino
Laura Post is going to voice Miki Okudera
Glynis Ellis is going to voice Hitoha Miyamizu
Your Name Anime Movie Story
The story of the movie revolves around the life of Mitsuha and Taki. Mitsuha is a young girl studying in high school. She currently feels trapped in the countryside, the place where she lives. Whereas Taki is a high school student from Tokyo. He is also a very good artist. One day, when both of them were sleeping, they dreamed something unusual. Mitsuha dreamt that she was Taki and was living his life, while Taki dreamt that he was Mitsuha and was living her life. In other words, they kind of switched places. However, later on, they found out that they weren't actually dreaming and were switching places in real life.
Afterwards, it will be revealed that there is a much bigger reason behind what is happening. Whenever they sleep, they switch places. So the two will try their best to figure out what is happening with their lives.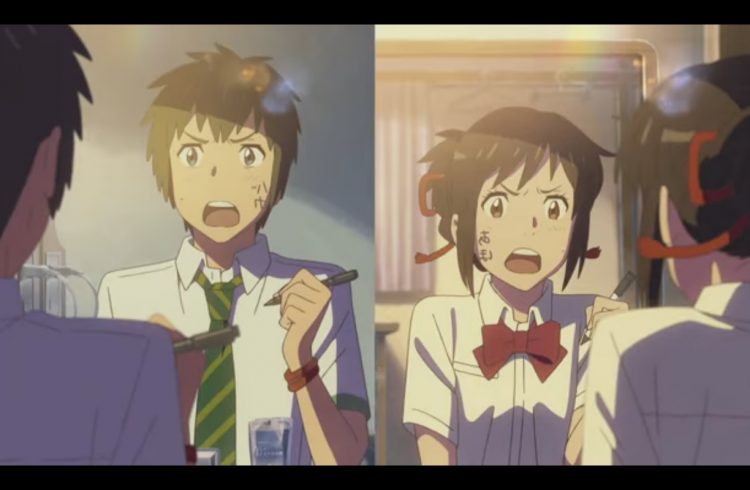 Along with this, the creator of the movie, Makoto Shinkai, recently won the "Hit Maker of the Year 2016" during the Grand Pix awards which were held on November 12. It was recently reported that the movie is now aiming to qualify for the Oscars.
Let us know if you're excited for Your Name English dubbed version or not in the comments below.