For 30 years, MSI has been manufacturing computer-related hardware and to celebrate its anniversary in style, the company has partnered with EK, a company that's widely known for manufacturing waterblocks for processors and graphic cards for the sake of overclocking and brought forward a limited edition NVIDIA GeForce GTX 1080 graphics card. The graphics card is a custom made GPU in terms of the cooler made and it looks premium, something that we expected from MSI.
The pricing of the GPU has not been detailed by MSI, but the limited edition and custom-made GPU is not going to come at the same price as a regular GTX 1080. Only a few units are going to be manufactured and those who want to upgrade their rigs with a combination of performance and aesthetics will certainly make this investment.
The default clock speed of the GPU is running at 1721MHz, and the Boost clock frequency is running at 1860MHz. There is a fair amount of difference between the default clock speed and Boost clock speed, and the upgraded cooling solution provided means that you'll be able to increase that clock speed even more. There is also a backplate present at the back, and MSI will continue to remind you of the milestone it has achieved as the 30-year anniversary can be clearly be seen on this backplate. There is also a RGB feature here, and users can choose to switch to any of the 16.8 million colors present through the MSI Gaming App.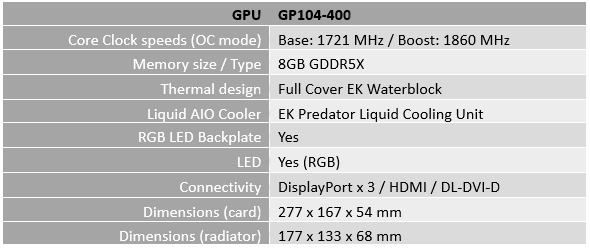 For connectivity, there are three DisplayPort connectors, one HDMI and one DVI-D port. There is no VGA connector, and with newer standards approaching, we could see this connector become nothing more than a thing of memory. There are two SLI connectors given at the top, and while the limited edition GTX 1080 is slim enough to fit into every single computer casing there is, you will need ample space for that massive cooler you see in the images.