Among all the rumors and leaks exposing Motorola's upcoming gadgets, finally the company announces an event which has been scheduled for July 28. And from the looks of it, one can tell something of great importance is coming, the launch will take place in three major cities – New York, São Paulo, and London. "A better mobile relationship is on its way" – that's how the tagline goes, leaving all of us wondering what's is it that's going to be shown off on stage. There's a speculation, that suggests, Motorola is going to unveil the latest Moto G and Moto X smartphones, among other devices.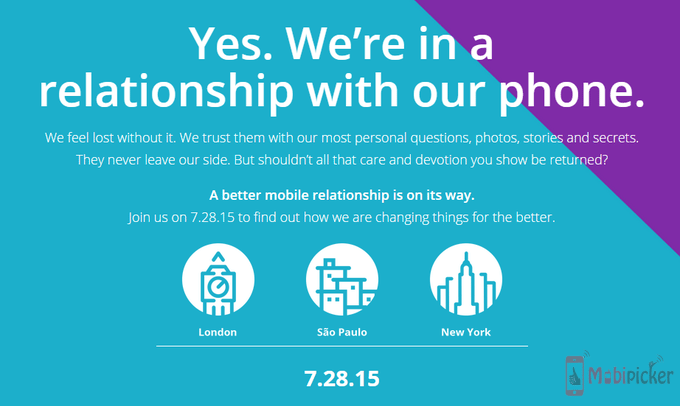 A recent leak about the Motorola Moto X (2015) came from Brazil (coincidence?) which stated what the back of the phone could look like. Rumor suggests that the new Moto X will come with a Snapdragon 810 SoC and a 5.2-inch display. The main camera has been upgraded, which is great news as the last year's model was an average performer. We're also hoping to see Motorola's new flagship phone powered with a powerful battery.
This would be a good time to bring this up, that a 5.7-inch Moto X model is rumored to be launched, but this claim lacks sufficient evidence. The rumored Moto X Sport which could be a rugged, water-resistant variant of the new Moto X  faces a similar situation, the budget-friendly Moto G (2015) was also leaked numerous times, along with high-quality renders. The handset will likely to be powered by Snapdragon 410 SoC with a 5-inch display. There seems to be various variants of the smart phone, including one with 1GB of RAM and 8GB of storage and a more powerful version with 2GB of RAM and 16GB of storage. It is claimed that the new Moto G will be water-resistant and rated with IPx7 which is interesting for a phone from this price range. Speaking of which, the Moto G (2015) should start at price of $179.99 in the U.S.
Motorola might also announce a successor to the Moto 360 smartwatch at its event, in addition to the new Moto G and the new Moto X. The information about the upcoming wearable device from the manufacturer is insufficient, but according to recent leaks, the Smartwatch could boast a higher-resolution screen with 360 pixels across its diameter.
And wait there's more! a new Motorola Droid model for Verizon could be one its way as well. However, very little information about this particular handset is known. We don't have any specs nor the price, or even a possible launch date as of now. Whether the new Motorola Droid will be shown at the July 28 event in New York remains unclear.