Just yesterday, we reported leaks about Intel Core i9 7980XE flagship Skylake CPU from Intel. And lo and behold! Intel has today launched monster CPUs – CPUs that will directly tackle AMD's Ryzen 9 Threadripper. Intel has introduced the most powerful, most scalable desktop processors ever. The new Intel Core X-series processor family is the ultimate desktop platform, delivering "extreme mega-tasking power for today's demanding enthusiasts and creatives".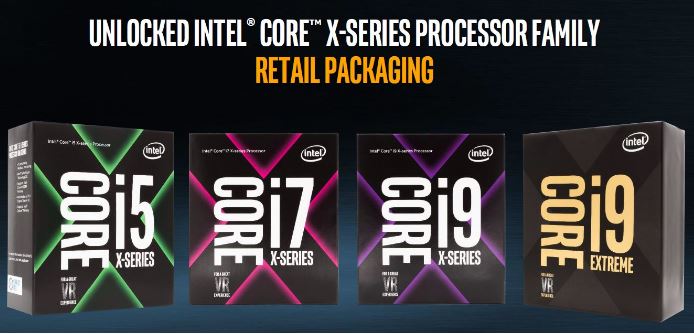 Intel introduces Core X-series: Monster Core i9 7980XE 18-Core CPU unveiled
Intel Core X-series processors feature the updated Intel Turbo Boost Max Technology 3.0, which improves single and dual core performance. Intel claims the Core X-series processor family provides the ideal platform for editing and rendering high-resolution 4K and VR video and effects, with support for fast video transcode, image stabilization, 3D effects rendering and animation.
Overclocking
Intel has specifically mentioned about overclocking features in the New Intel Core X-series processor family. The new overclocking features include Intel Advanced Vector Extension-512 (AVX-512) ratio offset, Memory controller trim voltage control, PEG/DMI overclocking with continued support for per-core overclocking, per-core voltage and enhanced memory overclocking.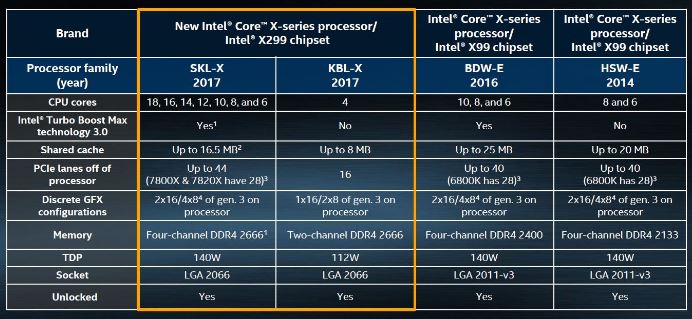 Desktop Family for Enthusiast Experiences
While Intel's 7th Gen Core i5 and Core i7 7th Gen processors are mainly targeted at mainstream performance, the new X-series – Core i5, Core i7, Core i9 and Core i9 Extreme are targeted at Extreme Performance. Here are the main features –
7980XE/7960X/7940X/ 7920X/7900X/7820X/7800X/7740X/7640X
Core options: 18, 16, 14, 12, 10, 8, 6, and 4
Up to 44 PCIe lanes
Up to four memory channels unlocked
Updated Intel® Turbo Boost Max Technology 3.0
Intel® Optane™ memory ready and support for Intel Optane SSDs.
The Core i9 7980XE is Intel's unbeatable flagship Skylake-X Processor, featuring 18 cores and 36 threads. It's priced at $1999 and will most likely be an overkill for gaming. But the powerful top-notch processor will be ideal for content creators who wish to get the maximum throughput, especially when it comes to compute-intensive tasks like rendering. The new Turbo Boost Max 3.0 technology will boost the clock up to a whopping 4.5GHz! The chip comes with 18MB L2 cache and 24.75MB of L3 cache and features quad channel DDR4 up to 2666 MHz.
Intel Core X Core i9 Processor Family Specs –
| | Intel Core i9-7980XE | Intel Core i9-7960X | Intel Core i9-7940X | Intel Core i9-7920X | Intel Core i9-7900X | Intel Core i7-7820X | Intel Core i7-7800X | Intel Core i7-7740X | Intel Core i5-7640X |
| --- | --- | --- | --- | --- | --- | --- | --- | --- | --- |
| CPU Process | 14nm+ | 14nm+ | 14nm+ | 14nm+ | 14nm+ | 14nm+ | 14nm+ | 14nm+ | 14nm+ |
| Architecture | SKL-X | SKL-X | SKL-X | SKL-X | SKL-X | SKL-X | SKL-X | KBL-X | KBL-X |
| Cores/Threads | 18/36 | 16/32 | 14/28 | 43093 | 43028 | 42963 | 42898 | 42833 | 42829 |
| Base Clock | TBD | TBD | TBD | TBD | 3.3 GHz | 3.6 GHz | 3.5 GHz | 4.3 GHz | 4.0 GHz |
| Boost Clock (Turbo Boost 2.0) | TBD | TBD | TBD | TBD | 4.3 GHz | 4.3 GHz | 4.0 GHz | 4.5 GHz | 4.2 GHz |
| Boost Clock (Turbo Boost Max 3.0) | 4.5 GHz | 4.5 GHz | 4.5 GHz | 4.5 GHz | 4.5 GHz | 4.5 GHz | N/A | N/A | N/A |
| L3 Cache | 24.75 MB | 22 MB | 19.25 MB | 16.5 MB | 13.75 MB | 11 MB | 8.25 MB | 8 MB | 6 MB |
| L2 Cache | 18 MB | 16 MB | 14 MB | 12 MB | 10 MB | 8 MB | 6 MB | 4 MB | 4 MB |
| Memory Support | Quad Channel DDR4-2666 | Quad Channel DDR4-2666 | Quad Channel DDR4-2666 | Quad Channel DDR4-2666 | Quad Channel DDR4-2666 | Quad Channel DDR4-2666 | Quad Channel DDR4-2666 | Two Channel DDR4-2666 | Two Channel DDR4-2666 |
| PCIe Lanes | TBD | TBD | TBD | 44 | 44 | 28 | 28 | 16 | 16 |
| Socket Type | LGA 2066 | LGA 2066 | LGA 2066 | LGA 2066 | LGA 2066 | LGA 2066 | LGA 2066 | LGA 2066 | LGA 2066 |
| TDP | 165W | 165W | 165W | 140W | 140W | 140W | 140W | 112W | 112W |
| Price | $1999 US | $1699 US | $1399 US | $1189 US | $999 US | $599 US | $389 US | $369 US | $242  |
Source: Intel News Room (PDF)
Also Check: Best GBA Games Of All Time