It seems that mobile versions of GTX 1070 and GTX 1060 from Nvidia will have pretty powerful specs. In fact, GTX 1070 will have even more CUDA cores than the desktop version.
As Benchlife reports, the upcoming mobile edition of GTX 1070 will have 2048 CUDA cores; desktop edition of the card has "only" 1920 cores. So it seems that the mobile GTX 1070 will be a very powerful card, perfect for PC gamers who prefer laptops. Of course, something had to be dropped in order to keep TDP as low as possible, and in this case, it's the clock speed.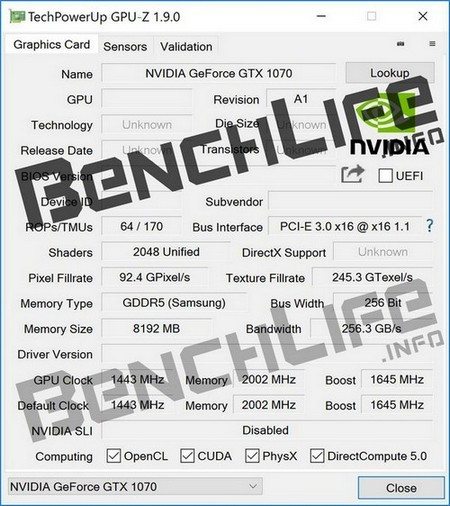 Reports state that GPU clock speeds will be lower in comparison to the desktop version. The good thing is that the card will keep 8 gigs of vRAM and its 256-bit memory interface. Check out the specs of mobile GTX 1070 above.
The mobile version of GTX 1060 will keep all of CUDA cores featured in desktop version (1280 cores) but will have slightly lower clock speeds ( default clock is 1405 MHz and Boost clock is 1671 MHz). As with mobile edition of GTX 1070, GTX 1060 will keep 6 GB of video memory and will have 192-bit memory bus, the same as a desktop version. Check out the screenshot below.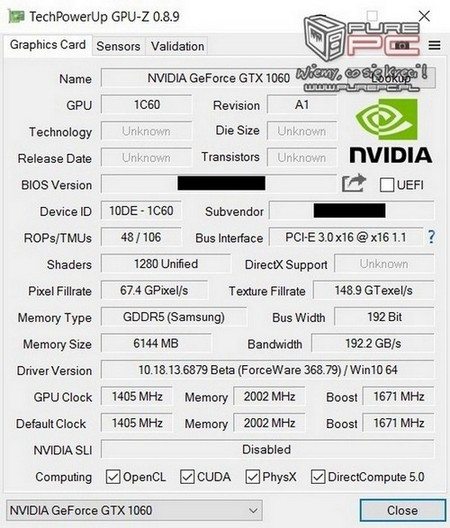 In other news, ZOTAC presented its newest member of GTX 1070 card family in the form of GTX 1070 Reference Edition. The card looks stunning with its all-black design, along with polygons. The card is a modification of the Founders edition and will keep default clocks (1506 MHz base clock, and 1683 MHz Boost clock).As you can see on
As you can see on third image below, where will be one DVI-D, one HDMI and three DisplayPort video ports. The card is offered only in Malaysia at the moment with a price tag of 1949 Malaysian Ringgit ($480, around Rs. 32000); information about international availability is nonexistent, but it would be nice to get our hands on this card, at least for its incredible all-black design.