Chinese smartphone maker Xiaomi have started the MIUI 7.2 update for a bunch of new smartphones. The update began to roll out just a few days ago and only for the Chinese variant of the devices. The first batch of  devices to receive the MIUI 7.2 update include Xiaomi Mi5, Mi Note Pro, Mi 4c, Mi 4S, Mi Pad, Redmi Note 4G (Single SIM) and Redmi 1S.
Xiaomi has started rolling out the MIUI 7.2 update for the second set of devices which include Xiaomi Mi 3, Mi 4, Mi 4i, Mi Note, Redmi 3, Redmi Note 3, Redmi Note 2, Mi 2/2S, Mi Pad 2, Redmi Note 4G (Dual SIM), Redmi Note 3G, Redmi 2A and Redmi 2. That's a whole lot of devices indeed and almost covers all the Xiaomi devices in the market currently.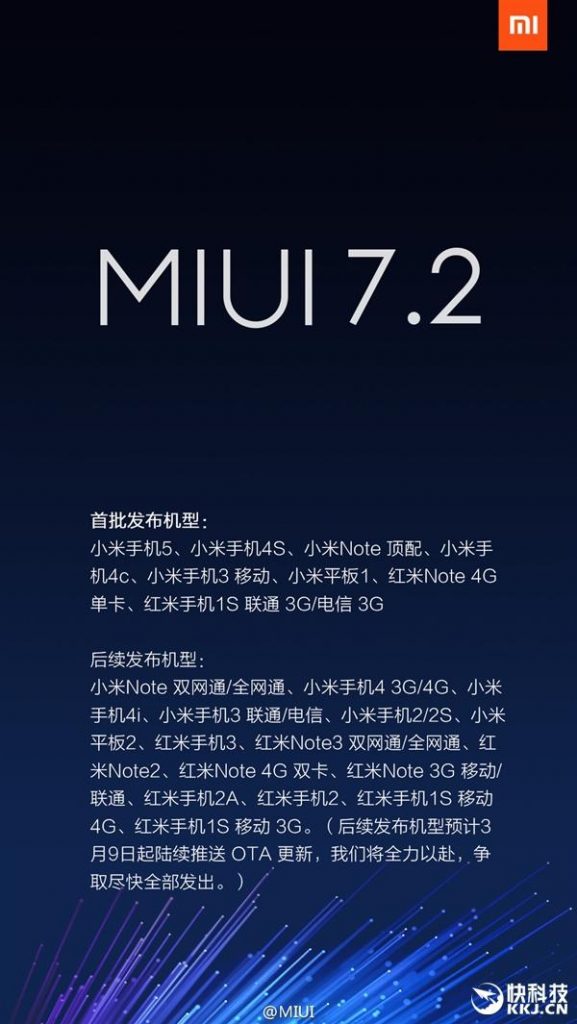 The users will soon start receiving the OTA updates on their phones through the Updater app. You can also download the update manually from the MIUI website.
Here is the detailed Changelog for the MIUI 7.2 update:
MIUI 7.2 China Stable ROM Update Changelog

Lockscreen, Status Bar, Notification Bar

Optimization – Optimized notifications style
Fix – Status bar was black in some situations
Fix – Sometimes status bar disappeared
Fix – Power button menu could not be read out or operated on in Accessibility mode

Home screen

Optimization – Home screen icons animated effects at unlocking
Fix – Home screen crashed in some situations.
Fix – When using Snow fairy theme, icons would disappear for a moment after unlocking
Fix – Sometimes daily lockscreen did not work
Fix – It asked to change folder name when first open the folder in Mi Space mode after rebooting

Music

New – Added music videos section
Optimization – In random playing mode, pressing 'Play all' in song list will not always start playing from the first song in the list

Backup
Optimization – New design for Mi Mover

Weather
New – Brand new Weather app. Added 24 hours forecast, air quality forecast, wind speed forecast

File Explorer
New – Double tapping top bar will go to the top of the page
Optimization – Optimized data source analysis for images using quick URL
Optimization – 'Forgot password' option will show after entering wrong password for private folder repeatedly
Optimization – A confirmation prompt will show before setting a folder as private
Optimization – Optimized search function to show more information of search results
Fix – Unrecognizable file names after ZIP files are decompressed
Fix – Private folders could not be decrypted

Data Usage
Optimization – Data connection will be disabled if extra data plan is also used up after the original data plan reached its limit

Mi Drop
Fix – Status bar always showed 0% when receiving files using Mi Drop
Fix – Sometimes WiFi did not connect after files were sent

Cleaner
New – Support adding apps to exception list in one press
New – New version of Deep clean. Added available storage space
New – New version of photos cleaning feature. Added duplicate photos/accidental photos/under and overexposed/screenshots sections
New – Added 'save the sharpest photos' option when cleaning duplicate photos
New – Deep clean supports cleaning APK. files
New – Deep clean supports managing videos
Optimization – Logic of defining rarely used apps
Fix – Errors in calculating sizes of deep clean big files

Mi Cloud
New – Added account lock after flashing phone in Find device. Avoid risks of lost phone being used by others
However, users must note that the update is currently available for the Chinese variants of these devices. A global rollout is expected to follow soon. Till then, stay tuned for more news and info and do leave your comments below.