Microsoft's all new Surface Laptop aims to supplant Chromebooks as a college-student favourite. The svelte, stylish notebook bridges the gap between Surface Pro 4 and the behemoth Surface Pro Book, adding a third option for performance lovers. However, despite offering a package as classy its cousins, the Surface Laptop misses on a few key spots – things you won't notice at the first place, but if you do, you'd again fall for the charm of Surface Pro 4.
Though it may sound odd, the 18-month-old Surface Pro 4 is way better than Surface Laptop. Its promise of a tablet that can serve as a full-fledged computer is much impressive than Surface Laptop's nearly as light full-fledged computer. In case you're still confused, these points of interest will certainly help you in deciding.
Price Makes A Difference
Let's face it, neither Surface Pro 4 nor Surface Laptop is especially affordable. They both carry hefty prices and are way above an average student's pocket money. However, a close comparison confirms that Surface Pro 4 still makes an enticing deal. Without a Type cover attachable keyboard, Pro 4 with Intel Core i5, 4GB RAM and 128GB SSD costs around $800, which is high but still 200 bucks less than the new Surface Laptop with very similar internals. Same goes for the high-end model of Surface Pro 4, which packs Intel Core i7, 16GB of RAM, and 256GB of SSD.
Questions On Windows 10 S
While Surface Pro 4 makes the most of Windows 10 and the Creators Update, it's sibling, the Surface Laptop, struggles with a lighter and snappier Windows 10 S. This OS, designed specifically for educational institutions, ensures greater manageability but can only run apps – both UWP and Win32 – from Windows Store. It also restricts you to Microsoft's own suite of apps, which basically means you won't get benefits of Google Docs, Chrome, Google Search and other third party desktop programs.
Of course, an upgrade to Windows 10 Pro seems like the only way out. But, keep in mind, Windows 10 S allows free upgrade only till December 2017. After that, Microsoft may charge you $49 for the privilege to upgrade.
Surface Pro 4 Display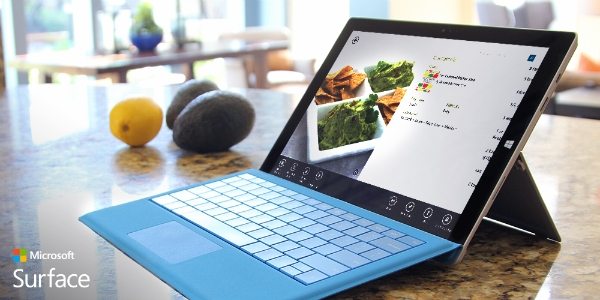 Deploying Microsoft's PixelSense IPS technology, Surface Pro 4 and Surface Laptop endow an exemplary viewing experience. These two machines use the same 3:2 aspect ratio for their displays but their size and resolution is totally different. Surface Pro 4 packs a smaller 12.3-inch display with an enhanced 2736×1824 resolution, while Surface Laptop features a 13.5-inch panel with a resolution 2256×1504, which is also good, but not enough to take down Surface Pro 4's sharper display.
Camera Output
With no doubts at all, it's must say, Surface Laptop's 720p front-facing snapper is no match for Surface Pro 4's skype-calling dedicated camera. You can expect decent daylight imagery from both cameras, but the 5-megapixel front-facing camera bundled with Surface Pro 4 is perfect for all environments. It captures videos at 1080p and is paired with another high-performing shooter on the rear, one that carries 8-megapixels and delivers lifelike images.
Like we said, Surface Pro 4 is far better than the newly launched Surface Laptop. Bang for buck isn't Microsoft's best suit, but the device delivers better value, especially for a student who'd want more power under the hood of his/her machine. If this notebook ever receives the long-awaited refresh, Surface Laptop would be no match for it, not even somewhere near!