Microsoft has confirmed that it will be hosting a launch event on May 2. The event has a hashtag of #MicrosoftEDU which hints that the upcoming unveil event at New York City would probably reveal an educational device. Speculations hint that the company may launch the Surface Pro 5, or Surface Book 2 with a clamshell design or an entirely new product called Surface CloudBook.
The rumor mill has been talking about the speculated features of Surface Pro 5 since a couple of months. The Redmond giant is known for releasing its hardware products in the second half of the year. Since the company did not unveil the Surface Pro 5 in the second half of 2016, it is speculated to get unveiled on May 2.
If the Surface Pro 5 is not launching, the company may introduce a Surface Book 2 with a clamshell design. It means that the Surface Book 2 may not feature a 2-in-1 design which is available in the original device. This could mean that the Surface Book 2 could arrive as a normal laptop to set it apart from the 2-in-1 Surface Pro series.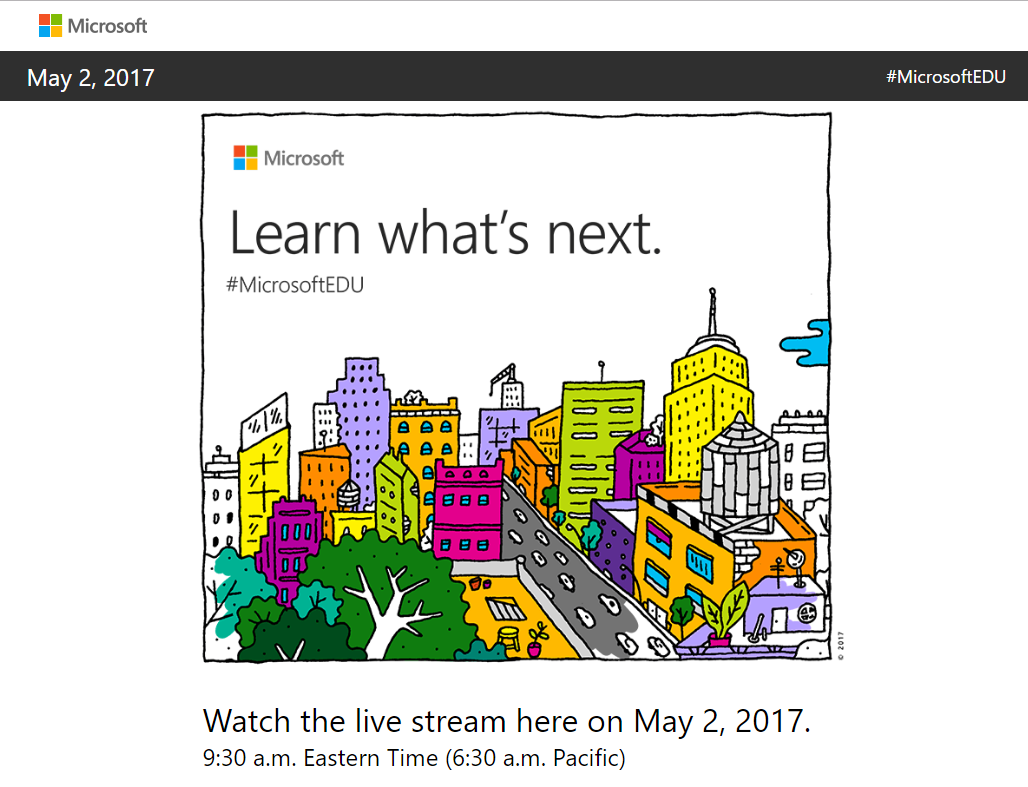 An interesting piece of information that has surfaced that the Redmond giant may unveil an entirely new product that will come out to rival with Google's Chromebooks. Speculations suggest that the alleged device is Microsoft Surface CloudBook that will be running on Windows Cloud, a cloud-based version of Windows 10 operating system.
With Windows Cloud, users will be to install Win32 and Universal Windows Platform apps directly from the Windows Store. The evidence of CloudBook has come directly from Microsoft as it has added a line of educational apps that are tagged with "cloudbook" ID. Walking Cat, a famous tipster has also released a tweet that show a collection of apps for "students and scholars with "cloudbook" ID.
interesting, a collection in WinStore for "students and scholars", id is "cloudbook" ms-windows-store://collection/?collectionid=cloudbook pic.twitter.com/JE2th3T1yh

— WalkingCat (@h0x0d) April 13, 2017
Speculations are rife that the CloudBook would be driven by an ARM-based processor which further hints that the Snapdragon 835 chip may power it. if this comes true, the CloudBook could become the first Windows 10 machine running on an ARM processor. Such a device can be available with affordable pricing and it will be very appropriate for places like a classroom where students require a long-lasting device. Students will be able to benefit from both LTE and Wi-Fi connectivity on the device.
It is still a bit early to predict on the arrival of CloudBook's arrival on May 2. Before launching the Surface Book and Surface Studio, the Redmond giant did well to keep them under the wraps. Hence, Microsoft is doing its best to remain silent on the device that it will be unveiling on May 2. The #MicrosoftEDU event will begin at 9:30 AM ET.
Check Also: How to Fix Windows Was Unable to Complete the Format Error