There have been rumors for a new phablet coming from Microsoft dubbed as Microsoft Lumia 940XL running Windows 10 to hit the markets by end of the year. Along with it there will be a smaller Lumia 940.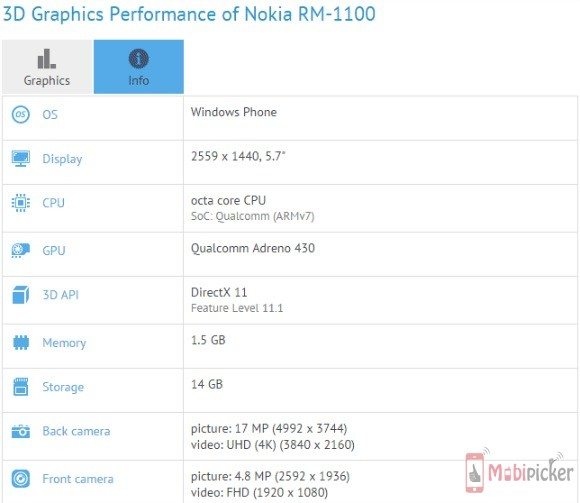 Today some of the specs got revealed for Lumia 940 XL as the device has made the round to a benchmarking site and showed up in its benchmarking results. Carrying a model number RM-1100, Lumia 940XL will feature a 5.7inch QHD screen with 2560x1440p resolution. As per the trends where benchmark always under presents the camera information, it may have 20MP rear snapper which can shoot 4K video while the benchmark shows 17MP.
With 5MP selfie camera and 16GB native storage and 2GB RAM (however benchmark reports shows 1.5GB) it will be powered by Qualcomm's Snapdragon 810 SoC with Adren0 430GPU and have an octa-Core CPU in ARM's.
Lumia 940XL is one of the first phablet running on Windows 10 which is expected to be officially launched soon. Powered by 3,000mAh battery, and USB Type-C Connector it will have an iris scanning technology for more security than fingerprint sensors.