Microsoft was expected to launch its Lumia 650 in the mid-range category while the Lumia 850 in the higher line-up. Both of these devices were rumoured to have a 5-inch display and also a front-facing flash for the Lumia 850.
But every speculation has been thrown into utter confusion because of a recent leak of pictures from China of a 5.4-inch Lumia device. According to sources, the device in the picture is the Microsoft Lumia 650 XL. A side-by–side picture of the device with Lumia 1520 clearly indicates a 5.4-inch display.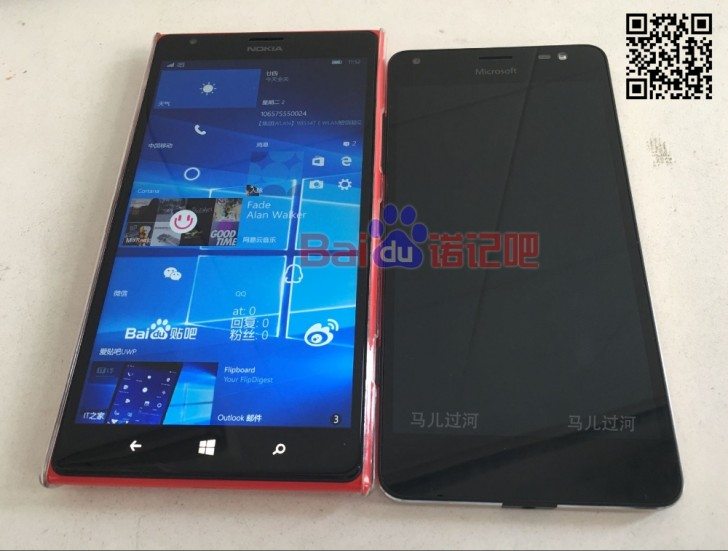 The pictures were leaked by Baidu. It also revealed some of the features of this phone. The device will have a 720p display and will be powered by a Qualcomm Snapdragon 210/212 (Qualcomm MSM8909) chipset. Lumia 650 was till now expected to come with this chip too so it seems plausible.
Also considering the previous generation of Lumia, XL series of Lumia 640 and Lumia 950 are quite common so it shouldn't sound odd. But here's what's odd. The leaked images of the device are very similar to the leaked images of Lumia 850. The single speaker cut-out at the top of the front glass panel, instead of the 650's slits at the edges, a metallic looking frame and most importantly, a front-facing LED flash make this device look too similar with earlier leaked images of Lumia 850.
So the question arises whether this device is Lumia 850 XL or simply Lumia 850. It may be possible that the reports of a 5-inch device were false but this also seems quite improbable considering the fact that Microsoft won't opt for a lower range Qualcomm Snapdragon 210/212 chipset for its higher range devices. Also, earlier reports had suggested a Snapdragon 617 chipset for Lumia 850.
Hopefully, these questions will get answered soon enough if Microsoft decides to release these devices later this month or early next month.
Stay with us for the latest news and updates and do post your invaluable suggestions and queries in the box below.