Microsoft Lumia 650 was launched a couple of months ago, with the expected release in March for India. Still, there have been no details from Microsoft regarding the launch of the handset for the Indian market, but a new listing on Amazon India clears a bit of air regarding the same.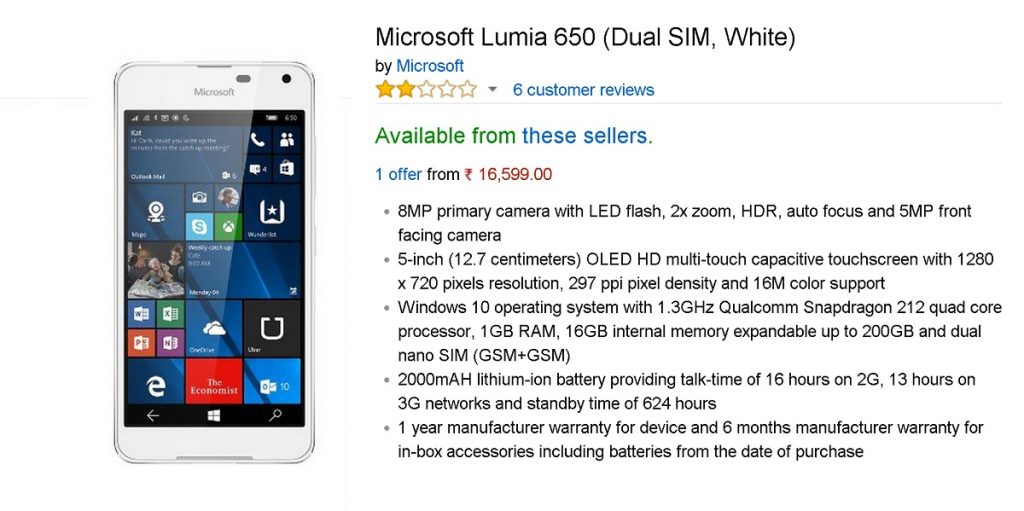 The Microsoft Lumia 650 can now be pre-ordered on Amazon India for 16,700 INR, which is a bit more than the rumoured 12,000 INR tag. The seller expects to ship the item starting 30th April.
As far as the specifications are concerned, Microsoft Lumia 650 is a 5-inch HD AMOLED display smartphone powered by Qualcomm Snapdragon 212 processor clocked at 1.3GHz, and 1 Gig of RAM. Internal storage stands at 16 GB with expandable capabilities of up to 200 Gigs via micro-SD card. Camera department of Microsoft Lumia 650 comprises of 8MP rear and 5MP front shooters. It's a dual-sim device running Windows 10 Mobile with a 2,000mAh battery capacity.
Overall, the smartphone is one of the most compelling designs to come from the Redmond giant. In fact, the Lumia 650 can strike a pose against the like of 950 and 950 XL. It's just that the specs sheet don't do justice to the overall package, but then again, Windows 10 Mobile isn't very demanding in the first place.
You can check the listing by following this LINK