The software giant Microsoft is about to release its next Lumia smartphone, dubbed as the Lumia 650. The upcoming smartphone is expected to be an affordable business phone with exciting features. The Microsoft Lumia 650 is going to be the fourth smartphone by Microsoft after the Lumia 950 XL, Lumia 950, and the Lumia 550 based on the new Windows 10 Mobile OS, all of which were announced in October last year. A new image of the Lumia 650 has leaked on Baidu along with a few specs. So let's check out what Microsoft has in stores for its fans this time-
Specs
Wearing a metal body, the Lumia 650 will sport a 5.4-inch display size with 720pHD resolution, as suggested by the new Baidu leak (pictured below). The Quad-core Snapdragon 212 processor along with 1 GB RAM will take care of its processing speed. It will pack 8 GB of internal storage along with expandable support via microSD card.
Other features include an 8 MP main camera, a 5 MP front-facing camera, a front-facing speaker, LTE, and a 2,000 mAh battery. It will be available in two colours: Matte White and Matte Black.
It is being said that the alleged Lumia 650 in the image below might be the Lumia 850 XL instead, or even might be the Lumia 650 XL. Nothing is confirmed at this point, so let's wait for some more leaks.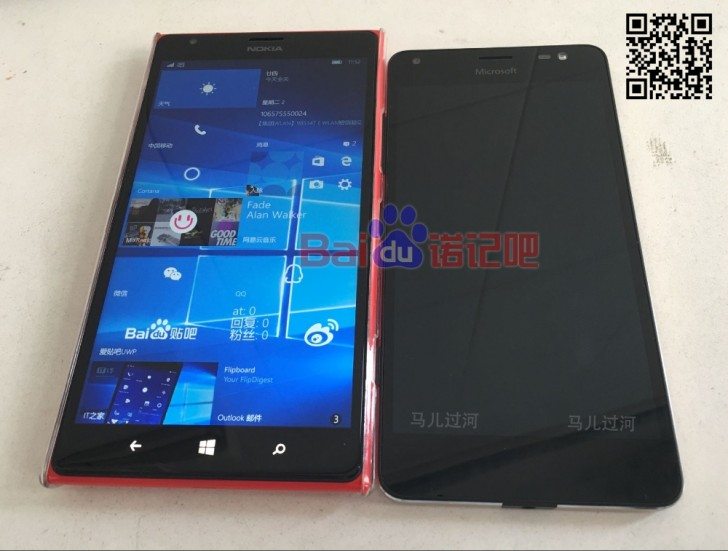 Features
The Lumia 650 will come with Windows 10 out of the box and might support wireless charging. There is a high chance that the phone will support Continuum, which allows you to connect keyboard, mouse, and display to a phone to use it as a PC. The phone will also get Qualcomm's Quick Charge 2.0, which will be helpful to the small battery of the phone. The phone might also flaunt NFC and Wi-Fi calling.
Lumia 650 Will Be the Last Lumia?
If the latest rumors are to be believed, then Microsoft will be scrapping the Lumia lineup after releasing the Lumia 650. What it actually means is that no other phone with the "Lumia" tag will be released after the Lumia 650. But why? Has Nokia taken back the "Lumia" branding from Microsoft and a new Nokia Lumia smartphone might come out in 2016? Though unlikely, but it's not impossible at all. Lumia fans will be disappointed to know that the 650 can be the last Lumia. But hey, it's not confirmed yet and we need to wait for the official confirmation.
Price and Release Date
The Microsoft Lumia 650 was earlier rumored to to carry a price tag of around $200-$250 and was going to be launched officially on the 1st February. Well, a new rumor today says that the phone will be launched first in Germany in early February by O2, one of the largest mobile carriers, and the Lumia 650 will be carrying a price tag of €219 off-contract. This translates to $238 in the US, which is a bit steep for this phone, so it will obviously be a bit cheaper.
According to Windows Central, the Lumia 650 will be the only Lumia phone in 2016 by Microsoft, Lumia 750 and Lumia 850 being cancelled. Microsoft may bring its new surface phone with Qualcomm's Snapdragon 820 processor.