Just a couple of days back, the Microsoft Lumia 640 went on sale through AT&T subsidiary Cricket Wireless. Now the T-Mobile has confirmed that starting July 16, it will launch the Lumia 640 via all its channels. The carrier has not mentioned any pricing details yet, however it would not be wrong if we expect it around $89, which was spotted on Microsoft online store in the US.
@WaverunningGeek Hey, good news! It looks like that device is going to released via all channels on 7/16! *PKB

— T-Mobile USA (@TMobileHelp) May 15, 2015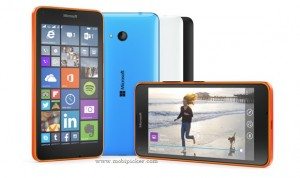 In terms of Specs, the Lumia 640 is equipped with a 5 inch IPS ClearBlack screen, and runs Windows Phone 8.1 which is further upgradable to Windows 10 on a later date. Powered by Snapdragon 400 chipset with 1GB of RAM, the Lumia phone packs 8GB built-in storage, an 8 megapixel primary snapper with LED flash, 1 megapixel selfie shooter, and a 2,500 mAh battery.
It is worth mentioning that the larger version of Lumia 640, dubbed Microsoft Lumia 640 XL, is also available via Cricket for $130 sans contract.