Together with their top-notch recent releases of the Microsoft Lumia 950 and Lumia 950 XL, the company also released a, let's say, not-that-high-end smartphone, running on the latest Windows 10. While the phone doesn't carry a heavy armory of specs like the one we're used to, you still may want to give it a chance.
The phone in question is the new Lumia 550, which carries a 4.7 inch LCD display with a resolution of 720 x 1280 pixels and pixel density of 314 ppi. The Lumia 550 is powered by a Snapdragon 210 chipset, paired with a quad-core 1.1GHz CPU and an Adreno 304 GPU. It features 1GB of RAM and 8GB of internal storage, expandable using a microSD card.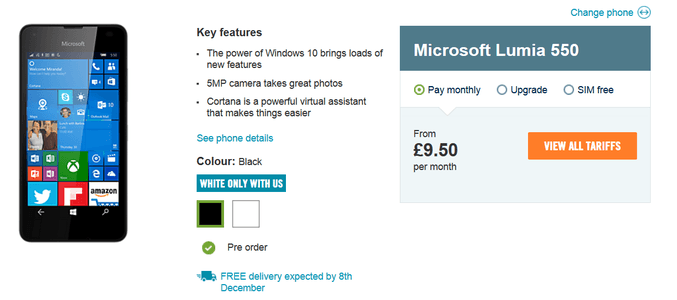 The Lumia 550 boasts a 5-megapixel main camera on the back, while a 2-megapixel unit comes at the front, for selfies/video calls. Juiced up by a 2100mAh battery, the phone comes with all standard connectivity options including Wi-Fi, Bluetooth, GPS and 4G LTE.
If you're looking for a low-budget Windows 10 smartphone, the Lumia 550 is the right option for you. It can be pre-ordered from the British retailer Carphone Warehouse. The retail price set is an equivalent of $137, or you can pay $11.72 per month. Either way, the phone will come unlocked and SIM free, and it will be delivered for free to you by December 8. If you're interested, click here and pre-order [Link was not working anymore, hence removed] the Lumia 550.
Since the above-mentioned models have already been made official, we have a feeling that the Microsoft Lumia 650 (a more powerful counterpart of the Lumia 640) will be announced soon enough.