Microsoft's Edge browser has been treated to the most requested feature in Windows Feedback program, the Extension Support. The feature makes its debut in the Windows 10 Redstone Build 14291 for insiders, with official release taking place in June expectedly.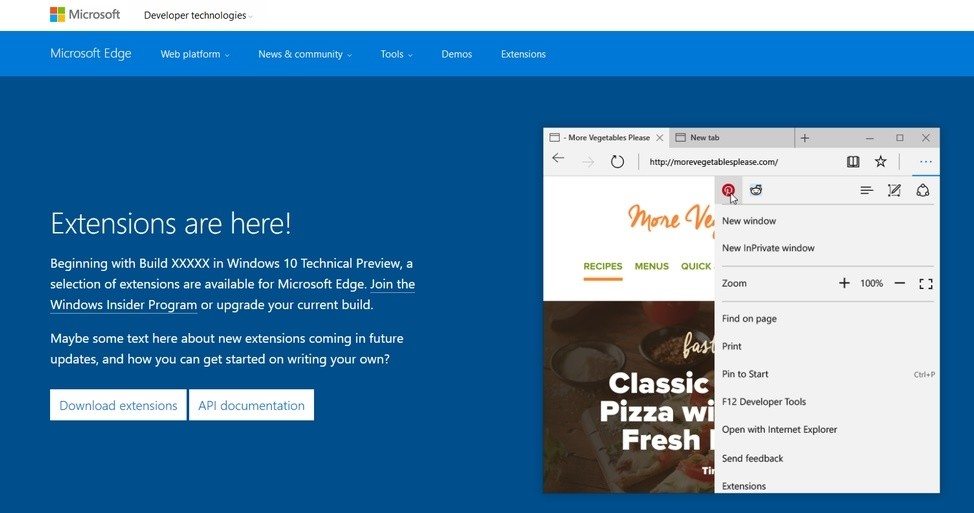 Browser extensions have long been available on Chrome and Firefox, making Edge browser less powerful than its counterparts. Luckily, Microsoft listened to users feedback and added the same to its offering with this build.
Being a preview build, there are just three extensions available right now: Mouse Gestures, Microsoft Translator, and Reddit Enhancement Suite. But, Microsoft hinted at its partnership with AdBlock, Adblock Plus, Amazon, LastPass and Evernote for bringing more extensions to the browser.
Right now, to make use of the above-stated extensions, users will have to download and sideload them separately. Once the feature is released officially, users can simply download and install them from Windows Store.
"With this in mind, we have built Microsoft Edge so customers can add extensions to the browser with the confidence that they will operate as expected," Drew DeBruyne, General Manager of Microsoft Edge, explains.

"One of our highest priorities is to ensure that Microsoft Edge is the safest, most reliable and fastest browser we could build, and our experience over the past 20 years has taught us that poorly written or even malicious add-ons were a huge source of security, reliability and performance issues for browsers."
Microsoft plans to get the majority of Chrome extensions by allowing easy porting with little to no code, hence ensuring the wealth of extensions in store at the fastest time possible.
The Browser extension will be a key topic at the Build conference taking place later this month. This will give developers a three-month window to port their extensions before the public release in June.
Here's a glimpse of Microsoft Edge Browser: