Last month, a Miami resident, Claudia Castillo noticed a speeding cop. Without hesitating, she went in pursuit of the cop and told him to slow down. The cop apologized for his actions, but the incident was recorded and telecasted via CBS. Mr. Fonticella, the cop who apologized had no issues with Claudia Castillo, by the looks of it. But his friend from the Miami Police Department, Javier Ortiz, did not take it lightly. Javier was also the leader of Miami Fraternal Order of Police. He posted all the personal information of Claudia Castillo that he could find, on Facebook. He also urged all his followers and friends to lash out at Claudia. Claudia reported to having received death threats post this incident.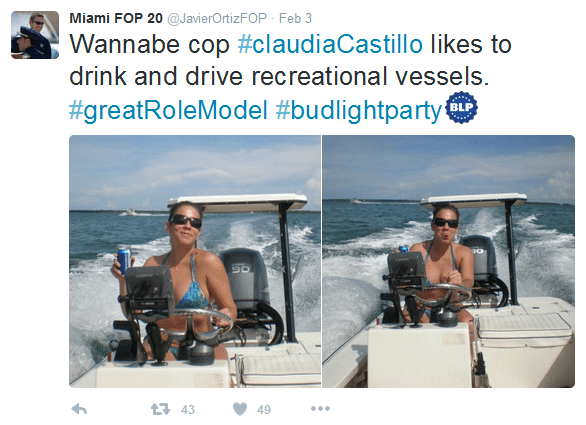 That was not all. Javier continued badgering her on Twitter too. All this commotion had caught the attention of TruthSec, a small hacking group claiming to be a part of Anonymous. TruthSec went the extra mile for Claudia and posted information about Javier on social media. And just like what he had done, TruthSec urged people to lash out at him too.
But there is a twist in the tale as both Claudia Castillo and Officer Fonticella have had a history of bad driving. Things are not looking good for Fonticella as he is under investigation by the Internal Affairs Department. Claudia's pictures of her driving a boat under the influence of alcohol were posted by Javier and it has gone viral. At the end of the day, it was TruthSec who gained popularity through the incident.