September 25 could actually see the curtain raiser on the high end handset from Meizu dubbed as Meizu Pro 5. The device is codenamed as Meizu NIUX and will be available in two editions where in one will house a MediaTek MT6797 chipset with deca-core cpu while the other will house the Exynos 7420. One of these variant which has Exynos 7420 chipset went through the benchmark test on GeekBench.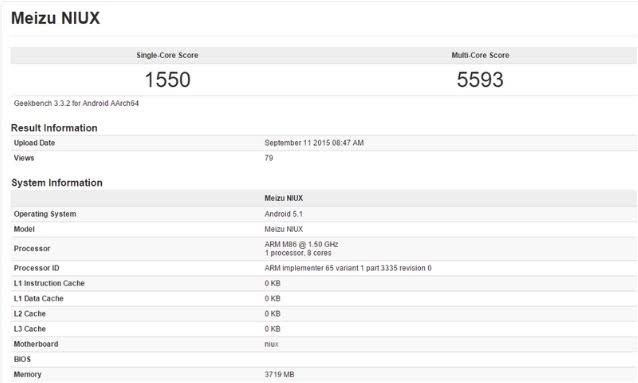 The important thing to note in this benchmark test is that the Meizu Pro 5 has score more than the Samsung Galaxy Note5 which also houses the Exynos 7420 chipset. While the Meizu's single core test stands at a score of 1490 the multi-core device score impressively stands out at 4950.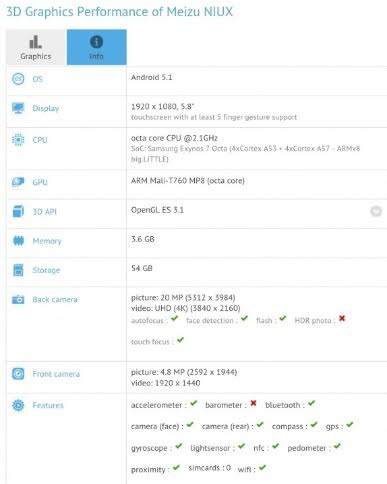 The other variant of Meixu Pro 5 which houses a MT6797 SoC is waiting to be benchmarked which has a Helio X20 chipset. The same chipset when powered by HTC One A9 with single-core scores 1835 and multi-core scores of 5884.
Apart from the scores, we also got the information that Meizu Pro 5 will be having a 5.8inch screen with 1080×1920 pixel resolution. The device will have an octa-core cpu clocked at 2.1GHz and 4GB of RAM with Mali-T760 MP8GPU. With 20MP camera on flip side it has a 5MP selfie camera and Android 5.1.1 installed.
Looking at the performance of Exynos variation of Meizu Pro 5, the expectation from MediaTek has also been increased. Now only time will tell on how it fare on the expectations?