Meizu definitely wants to leave no stone unturned in order to increase business in China. Earlier today, we reported that a new Meizu phone called the Meizu M5 Note will be launched on 6th December. The company is also launching the Meizu X on November 30th. Now, a new leak coming from China suggests that along with the Meizu M5 Note, the company will also launch the Meizu M5 Note Metal.
The new information has been leaked by tipster @KJuma on Weibo, who has provided several useful leaks in the past. He posted an image on Weibo that shows the pricing and memory configuration of the two devices. The image is believed to be a screenshot of one of Meizu's official mails.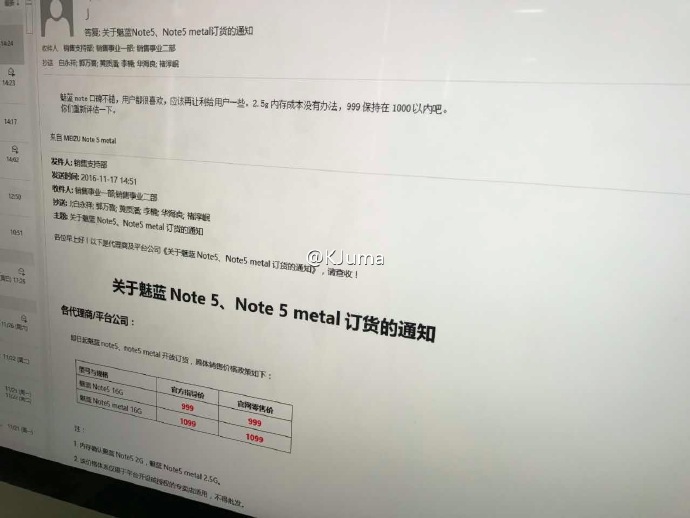 According to the new leak, the Meizu M5 Note price will be CNY 999, which translates to USD 144 approximately. The Meizu M5 Note Metal will be priced at CNY 1099, which is $159 approximately. Both the prices are for the 16GB storage variants of the devices, and it has been mentioned in the screenshot that the M5 Note and the M5 Note Metal will get 2GB and 2.5GB of RAM respectively.
The pricing is really good, but we aren't sure if there will be a 3GB RAM/32GB storage variant for both or any of the two phones. Also, the extra "Metal" suffix for the Meizu M5 Note Metal is unclear in its meaning right now, apart from the fact that it has got 500MB RAM more than the Meizu M5 Note. Will both the phones get an all-metal body or only the Metal variant will? Let's wait for more leaks to find out.