MediaTek has been at the forefront of mobile processors sporting more than eight cores. Now, the company has officially unveiled its highly anticipated Helio X30 SoC. The new processor features 2.4 times performance improvement from its predecessor.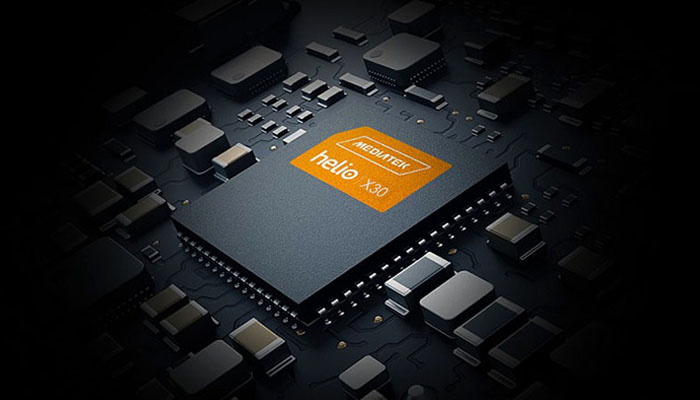 At the recent Mobile World Congress (MWC 2017) event in Spain, Mediatek spearheaded the official opening by introducing the Helio X30. The new deca-core processor is based on the tri-cluster design that features ARM Cortex-A73 and Cortex-A53 architectures. At the helm of the unit, there are two ARM Cortex-A73 architecture cores running at 2.5GHz. These two are complimented by eight ARM Cortex-A53 architecture cores. The first half running at 2.2GHz and the other half at 1.9GHz clocks. The processor is based on the current mainstream 10nm process technology.
According to MediaTek, the new Helio X30 processor boasts performance increase of as much as 2.4 times when compared to an Helio X20. Furthermore, its intelligent task switcher, the CorePilot 4.0, delivers as much as 25 percent power savings.
The Helio X30 can support a massive 8GB of LPDDR4X RAM and a maximum display resolution of 2560×1600 pixels. As for storage, UFS 2.1 flash memory and eMMC 5.1 come as standards. The GPU on the Helio X30 is Imagination's PowerVR Series7XT Plus that runs at 800MHz. The PowerVR Series7XT Plus GPU boasts a 60-percent improvement in power efficiency compared to the previous iteration on the Helio X20.
On the imaging side of things, the Helio X30 can support a single 28-megapixel camera sensor or a two 16-megapixel camera arrangement. It can process 4K video at 30 frames per second. And it also includes a Category 10 LTE wireless module with the connection speed of up to 450Mbps.
The Mediatek Helio X30 will become available in the market in the second half of 2017. The first mobile device to come with the processor is the Vernee Apollo 2 which was also launched in the said event. The Vernee Apollo 2 will have as much as 8GB of RAM and 128GB of flash storage.