Radeon Pro Duo, the flagship graphics card from AMD, is currently selling at a heavily discounted price. The once $1500 card is now available for as low as $799.00 across several retail websites.
The price cut put in place by all AIB partner is not region specific and users across the Asia-Pacific and North American regions can avail it. The discounts have so far ranged typically from 31% to 46% of the original price.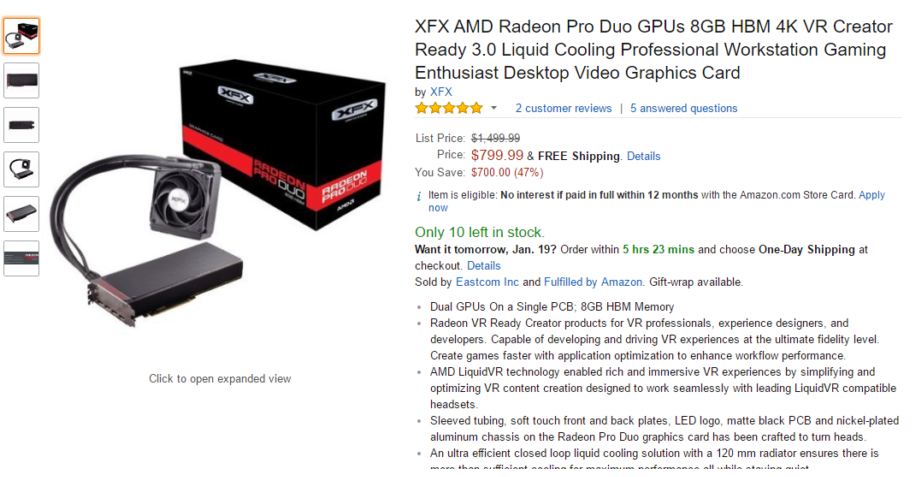 This price cut is basically an attempt by AIBs to clear their stocks of older cards as the speculated release of Vega-based next-generation flagship product closes in.
Launched in April last year, the Radeon Pro Duo was considered a flagship product in the extended Radeon family and was meant to serve as a gaming and workstation product.
For the uninitiated, the Radeon Pro Duo comes with two full-fledged Fiji GPUs and it packs a total of 128 compute units in two GPUs, each carrying 4096 shaders. With that, the total core count stands at 8192 which happens to be the highest on any GPU till date.
Each of these cores sports 64 raster operation units along with 256 texture mapping units. The GPU Core, meanwhile, operates at 1000 MHz.
The card is capable of offering 128 GP/s pixel fill rate and 512 GT/s texture fill rate at the rated clock speed. As you know, the Radeon Pro Duo was directed toward 4K gaming and pro-grade content, making it practically mandatory for the chip giant to add Liquid VR and FireRender technologies for optimal app-level support. This enables the card to offer 16 TFLOPs of 32-bit single precision compute that qualifies as the highest value any graphics card has delivered till date. The Vega 10-powered Instinct MI25 will bring along 12.5 TFLOPs of FP32 compute performance.