Married At First Sight Season 5 Episode 5 has wrapped up on a stressful note, with tension building among the Chicago couples. One of such couples is Nate Duhon and Sheila Downs, who seems to be on the verge of getting a divorce.
It all started when the couple was having a tense ping-pong match. Sheila feels that her husband has a very competitive nature and which does not seem to impress her. She said to the camera, for him"…losing has never been an option" she also said later to Nate, "I feel in competitive moments you feel the need to diminish my light in order to shine brighter," reported Daily Mail.
On the other hand, Nate did not admit that he was acting competitively against Sheila. While discussing with Sheila he says that it is just a healthy competition. But things got even tenser when Nate wanted to hold her hand but she refused. After a certain time, Nate felt it was disrespectful what Sheila did to him and the problem of communication continued to stay between them.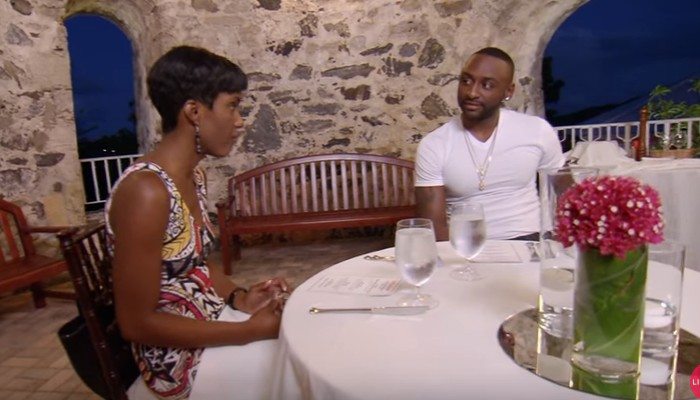 A Tense Moment
The episode witnessed a tense moment when Pastor Calvin Roberson was called to settle the dispute between Nate and Sheila. Downs then made a shocking revelation that "After this big fight, my husband just told me off camera that he doesn't want to be married anymore," reported Chicago Tribune.
The couple who recently consummated their marriage on their honeymoon has been very happy with each other. But they still face communication issues which seem to wield a wedge between them.  Downs then revealed that her husband apologized to her for the harsh words he used about their wedding. But she finds it difficult to fix things as the damage done is perhaps affecting her emotionally.
This drops a hint that this Chicago couple that seemed to be made for each other might as well go for a divorce. As the couple moves into next episode it will be interesting to see what happens next.
Other Couples Face Tension Too
The other Chicago couples Cody Knapek, 26, and Danielle DeGroot, 30, also suffered from expectations. While on their honeymoon, Knapek had difficulties with attempting zipline. And this did not impress DeGroot.
Meanwhile, the couple, Anthony D'Amico and Ashley Petta, was happy until Petta started talking about having children. D'Amico felt Petta is going too fast and he needs some time to decide about it.
Married At First Sight Season 5 airs every Thursday on Lifetime network.