The only Unlockable items in the Mario Kart 8 Deluxe are the parts for the Karts that the players can only select before the race begins.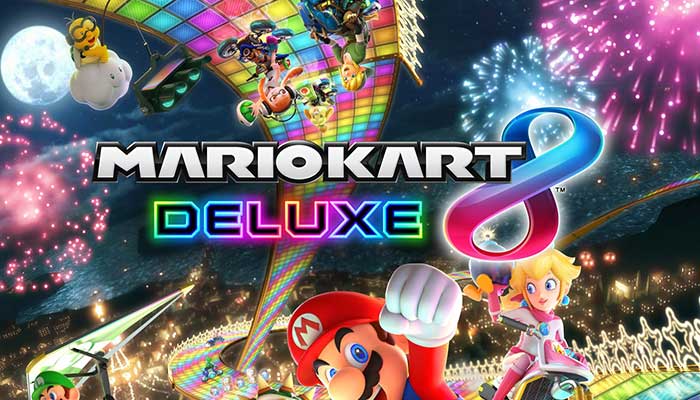 Kart parts determine how fast you can actually go while in a race against the opponents. So, at first stages, you don't have enough options to choose between. The only way is to earn more coins via winning the Grand Prix races and then buy the parts.
Coins in the game can help you increase your speed, but you can only hold 10 coins at a time. However, you can continue on collecting coins as to increase the total number of the earned coins. To collect more coins, you can simply play more Grand Prix races with your friends. This way you'll be able to gather coins twice as fast and in numbers.
After you've finished every cup, the earned coins will add up to the total number and you'll get notifications if you've unlocked any new Kart parts.
For every 50 Coins collected, you'll be able to unlock a new bike, a wheel, or a glider. However, if you hit the 550 coins mark, the numbers will jump to every 100 coins. Afterward, you'll have to collect 100 coins to unlock a new bike, wheel, or a glider.
As Mario Kart 8 Deluxe, has every character and race track unlocked for you, it adds more replay value to the game on Nintendo Switch. This, in turn, encourages the players to continue playing in the Cups until they are able to unlock all the Kart parts.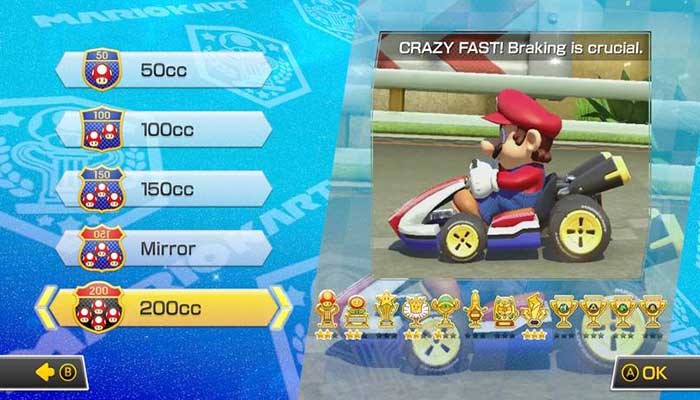 Almost all of the Kart parts from the Nintendo Wii U version are available in the game on Nintendo Switch version. So, if you have any specific favorite Kart design from the Wii U version, you can have it in the Nintendo Switch version as well. You also have all the Mario Kart 8 DLC Kart parts in the game as well as some of the new ones that are exclusive on Nintendo Switch.
Keep in mind that the more you collect the coins, the more you'll be able to unlock the Kart parts. They will increase your overall stats as well as boost your speed. So, keep an eye open for the stats page. This way you'll keep track of what stats are increasing and which ones are decreasing.
In addition, for good speeds and performance, use your Kart parts wisely. It'll help you race against the opponents and win the cups.
Following is the list of every Kart part available in Mario Kart 8 Deluxe.
Mario Kart 8 Deluxe Kart Parts
1. Karts/Bikes/ATVS

Standard Bike
Comet
The Duke
Flame Rider
Varmint
Jet Bike
Yoshi Bike
City Tripper

2. Standard ATV

Teddy Buggy
Splat Buggy

3. Standard Kart

Mach 8
Steel Driver
Circuit Special
Biddybuggy
Sneeker
GLA
300 SL Roadster
B Dasher
Streetle

4. WHEELS

Standard
Monster
Roller
Slim
Slick
Button
Off-Road
Sponge
Wood
Azure Roller
Crimson Slim
Triforce Tires

5. GLIDERS

Plane Glider
Paper Glider
Super Glider
Cloud Glider
Parachute
Parafoil
Flower Glider