Barely a couple of days after the launch of the Samsung Galaxy S8, we have a big revelation about the next most anticipated Android flagship, the Xiaomi Mi 6. A new leak that appeared on Chinese microblogging platform Weibo reveals that the Mi 6 release date is set to fall sometime in April third week — roughly 20 days from now.
We urge to take this new rumor with a pinch of salt for now until we get further confirmation. However, if you are to take the new leak on the face value, odds are high Xiaomi will launch the Mi 6 on April 18.
As for the specs, according to a section of the Chinese media, it is almost confirmed that the Xiaomi Mi 6 specs will include a ceramic colorful body, iris recognition, wireless charging, and USB Type-C. Also, it looks like the earlier reports of Xiaomi ditching the 3.5mm headphone jack are indeed true.
Another major improvement will be the Mi 6's IP67 certified waterproof and dustproof body.
According to the leaked specs sheet, the Mi 6 will come equipped with a 5.15-inch screen, 4GB/6GB of RAM (depending on the model), 3200mAh battery, and Sony IMX400 19MP rear camera. The bigger and more powerful Mi 6 Plus is expected to come with a 5.7-inch display, 6GB of RAM, dual camera on the rear panel (both of them Sony IMX362 12MP), and 4500 mAh battery.
Earlier speculations suggested that both the Mi 6 and Mi 6 Plus would carry a Qualcomm Snapdragon 835 SoC under the hood. However, recent reports have hinted that Xiaomi may have opted for the slightly older Snapdragon 821 because of a shortage of the SD 835 in the market. (It is alleged that Samsung is holding on to the bulk of the existing SD 835 stock for its Galaxy S8 phones).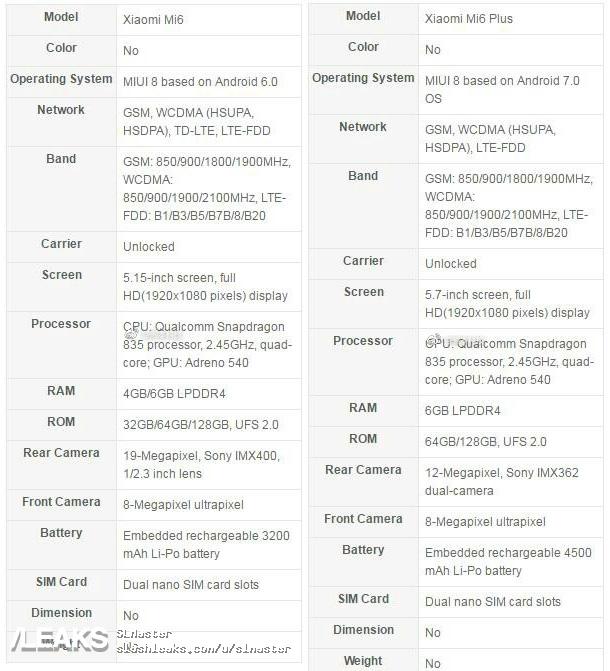 Overall, all factors combined, it looks like the Xiaomi Mi 6 will pose some serious challenges to the Galaxy S8. Add to that the fact that it will cost significantly less compared to the Galaxy S8, and some analysts are convinced that Xiaomi may have an upper hand in this forthcoming battle of flagships. The base variant of the Mi 6 is expected to sell at somewhere around 1999 Yuan ($290 approx).
Finally, the leaksters who have been providing us with all these sneak peeks into the Xiaomi Mi 6 release date and specs are also hinting that the company has some big surprises in store when it launches the new Android flagship.
Stay tuned for more Xiaomi Mi 6 related news and updates as the alleged release date inches in.
[
Via
]