Apple released macOS Sierra 10.12.1 yesterday, but hardly did we know that a secret surprise was awaiting us. You should know that Apple made a small goof-up, due to which an important feature of the upcoming MacBook Pro 2016 has got leaked. We are talking about the much-rumored OLED touch bar that was being speculated for the notebook.,
It is being expected that Apple will launch the MacBook Pro on 27th October, Thursday. In macOS Sierra, there are some hidden images of Apple Pay that clearly show (and confirm almost officially) that the redesigned MBP will get an OLED touch panel just above the keyboard, replacing the function keys. You can see in the images that there's Touch ID support, and the fingerprint sensor has been embedded into the touch panel itself on the extreme right-hand side.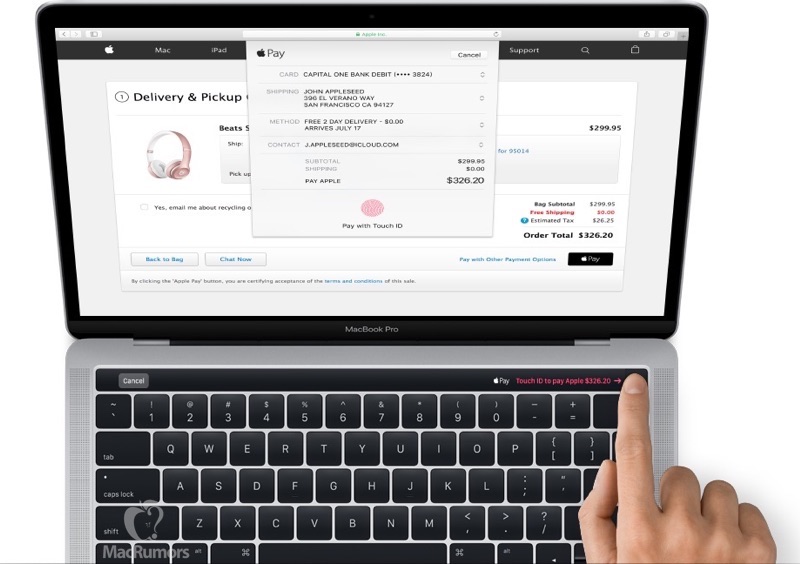 Some reports suggest that the new touch bar will be called 'Magic Toolbar'. If we go by the images leaked, the touch panel will be contextual and will display options/notifications depending on what's on the screen. In of the images where Apple Pay asks for purchase confirmation by using the Touch ID fingerprint sensor. There's no button and the sensor is built into the OLED panel directly.
Speaking of design, the 2016 MacBook Pro looks similar to the current models. The 13-inch model will get speakers at the side of the keyboard. It is being said that the new models will be lighter and thinner than the existing ones, and there will be a redesigned hinge. The keys may be much flatter. We can't see the ports in the images, but expect an abundance of USB Type-C ports. The headphone jack may remain, but the SD card slot, MagSafe port, and HDMI port are expected to get removed.
The Apple MacBook Pro launch event is going to be held at 10 AM on 27th October. We also expect the Cupertino company to launch a new MacBook Air and new iMacs too. Stay tuned and we'll bring you the latest updates.