While the world waits patiently for the iPhone 7 launch event, rumors claim that the MacBook Pro 2016 is also expected to launch during the same event. But few other sources claim that the MacBook Pro 2016 will not be launched during the September event. While the speculation of the launch date continues, few new features in the MacBook Pro 2016 are more or less confirmed.
One of the newest additions to the MacBook Pro 2016 will be the OLED display. The OLED display will replace the traditional function keys. That the function keys will be replaced by OLED display is also confirmed by the upcoming macOS Sierra's support for the extra hardware. MacBook Pro fans are already excited about this new feature. In addition to the OLED strip,  in the new MacBook Pro 2016, Touch ID will most likely make its appearance. Just as in iOS devices, this new feature will allow unlocking with user's fingerprint. What however remains to be seen is Touch ID feature integration into the OLED screen. When macOS Sierra launches this fall, Apple Pay functionality can very well be used on MacBook Pro seamlessly by combining the potential of Apple Web Pay and the new Touch ID.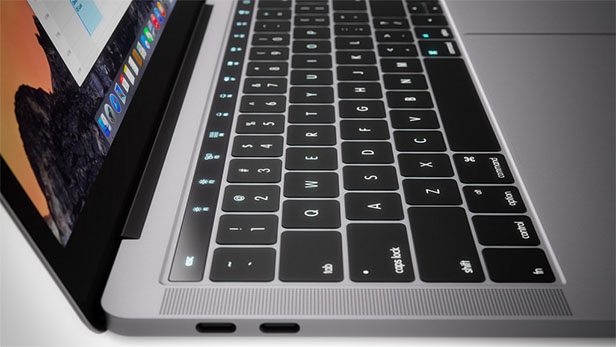 According to Yibada, Apple is expected to stick to its usual screen sizes. The MacBook Pro 2016 is therefore expected to sport a screen size of 12 – 15 inches. The screen is likely to have a high-resolution retina display. The USB 3.1 will also make its appearance in the MacBook Pro 2016. So, in all, OLED display, fingerprint scanner and USB 3.1 will be the main attractions for the upcoming Pro.
You are probably aware of the news that Apple wanted to push back the MacBook Pro 2016 launch, owing to Intel's Kaby Lake time frames. As Apple Insider reports, the new MacBook Pro 2016 will not be featuring the 7th Gen Intel's Kaby Processor. Intel Kaby processors started shipping recently and as we expected, it's highly unlikely that the MacBook Pro will come with the new processor.
MacBook Pro 2016 will continue the tradition of an integrated graphics card. But the graphics card in the Pro 2016 is expected to be more advanced than its predecessors, with better performance and lower power consumption. While the official date for MacBook Pro 2016 is yet to be announced, it's highly likely that Apple will launch the MacBook Pro 2016  in September or October this year.