Apple successfully launched the iPhone 7 and iPhone 7 Plus last month and the devices are selling well now. But it's not the new iPhone we were waiting for. Instead, most Apple fans have got their eyes fixed on the next Apple launch event that will introduce some new MacBook models. It is being said that the Cupertino giant will launch a new iMac and new MacBook Pro 2016 models. And alongside that, a new MacBook Air 2016 might also see the light of the day!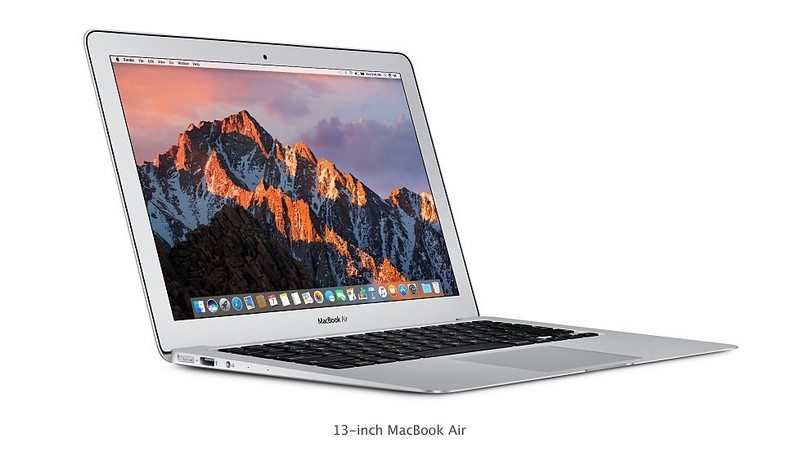 Yes, there are rumors that Apple may release a refreshed 2016 MacBook Air notebook with bumped up features. It is being said that a 13-inch variant of the MacBook Air will be released this month, and it is possible that the 11-inch Air model will be killed off due to the existence of a 12-inch MacBook. The new Air laptop will not only come with a bigger screen size but will also get significant internal upgrades that will keep the Mac Air lineup alive for at least a couple more years.
Macworld reports that the new MacBook Air 2016 will be thinner and lighter than its predecessors. It will ditch the traditional USB ports and will get USB Type-C with Thunderbolt 3. There will be a new chassis and a new battery as well, and there's a chance Apple might add a Retina screen into the mix for the fans of the Mac Air. It is being said that the MagSafe charging port will be removed and charging capabilities will be handled via USB-C, which is also being said for the upcoming MacBook Pro 2016.
Other rumors for the upcoming Air notebook suggest a Force Touch trackpad and a physical Touch ID sensor. While the former is a logical possibility, the latter seems like a long shot. Because adding a Touch ID sensor to the MacBook Air will increase its cost, and it's possible that Apple may decide to keep that feature exclusive to the new Mac Pro model.
A report by Arstechnica points out that the MacBook Air 2016 will be powered by Intel's Skylake CPUs and will get new Polaris GPUs under its hood. There could also be a customizable OLED touchscreen bar replacing the function keys. This bar will give users access to notifications and controls for the onscreen app. This feature has been suggested for the MacBook Pro 2016 too. Of course, this feature will also increase costs, so Apply may not include it in the Air model.
Reports suggest that the MacBook Air 2016 launch date is set for 27th October, which is just a week away. It is being said that the new notebook, alongside iMac 2016 and Mac Pro 2016, may be launched at or near Apple's Cupertino headquarters in a low-key press event. If the launch happens by the end of this month, shipments could start rolling out within a week of the release.
Things are heating up as the speculated launch date for the 2016 MacBook Air arrives. Earlier rumors were suggesting that the Mac Air lineup might get discontinued altogether. But fans are still keeping hopes that Apple will not pull the plug for the Air series. Stay tuned and we'll keep you updated.