The LG V-Series introduced a couple of years ago has sustained decent interest among phone enthusiast until now. Upon launch, LG V10 was the first device to feature dual display tech. It was further refined by V20 a year later, and now, all are eyeing for the LG V30 launch. While nothing has been confirmed from the house of LG, a new set of leaks from Evan Blass has appeared showcasing the early renders for the V30.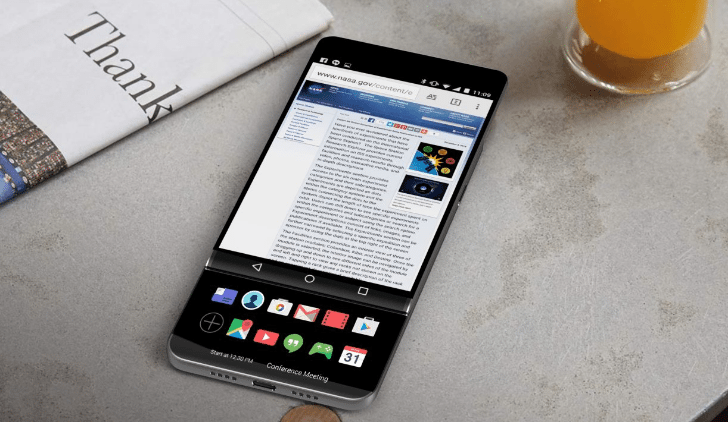 LG V30 Concept Renders
The next V-Series smartphone is also expected to sport dual screens, but with a redefined design. Before getting too excited with the renders below, it's important to note that these are very early design mock-ups and the actual product may vary entirely. Even, Blass has stressed on the same in his tweets.
Weekend bonus: this is an old-ish mockup of Project Joan, a.k.a. the LG V30. Not clear if the project is still headed in this direction. [1] pic.twitter.com/k5jNJ7DyLz

— Evan Blass (@evleaks) May 27, 2017
The design is pretty interesting, to say the least. It features slide-out mechanism of the Blackberry Priv with a touchscreen in place of a physical keyboard. How LG makes use of the dual screen space this time, is yet to be seen.
Here's how the device was envisioned to look with the secondary display fully extended. [2] pic.twitter.com/HNkZErj7xB

— Evan Blass (@evleaks) May 27, 2017
Overall, the LG V30, heading under the Project Joan will be a device to look forward in the second half of 2017. Do let us know if the device released with such a design can have your money or not in the comments section below.