LG introduced an always on screen in the LG V10. People criticized it. But LG is not deterred by the critics. Apparently, the LG V20 will launch soon with the same dual screen, with the upper screen always on. The same setup is in the LG Screen X. The new device will launch at the IFA 2016, in Berlin, on September 6.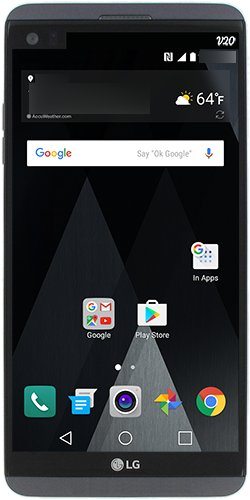 The new information is deduced from the device's render leaked by famous leakster Evan Blass (@Evleaks). From the image, the only thing that is clear is that the home screen will be highly uncluttered. There are no duplicate apps. Interestingly, there is an In Apps icon on the home screen. Phone Radar speculates that the In Apps has something to do with Android Nougat, which the device will run.
The image only shows the front. So, we do not know the aesthetics of the back. From the little we know about the device, it will have a 2K display, dual rear camera, like the LG G5, and recent reports indicate the device will also come with a dual front camera setup. As for the chipset, we expect the snapdragon 820 to power the device.
LG is set to launch the V20 on 6th September at the IFA 2016, in Berlin, Germany. The event will start on 2nd September and end on 7th September. Stay tuned for more on the LG V20.