LG V20 is officially here and comes with a wide range of improvements over its predecessor, while keeping some features intact that made V10 into a popular, but underrated smartphone. The rugged design of the smartphone has been replaced with an aluminum body, making it lightweight and durable at the same time. One of the things that LG has improved here is that there is no modularity with the LG V20; just take it out of the box and start using it immediately.
The backside is removable, which gives you access to the removable battery as well as to the SIM cards and storage card slots. The primary display comes in at a 5.7-inch IPS panel with a QHD resolution. As for the secondary display, LG has made it slightly longer compared to what was seen on its predecessor, and at the same time, the company has also doubled its brightness in order to help the user see clearly what's written on that display.
A Snapdragon 820 and 4GB of RAM was the most expected part of the hardware configuration, though it was highly possible that LG could have gone with a Snapdragon 821 and higher amounts of RAM, though it would have been pointless at that time. The dual camera has been reintroduced in the LG V20. It is a 16MP rear shooter with an aspect ratio of 16:9 and features an OIS chip as well. It also comes with laser phase-detection autofocus and is supplemented by a secondary, but wide-angle 8MP fixed-focus camera for 135 degree shots. With this, you'll be able to capture more on the display, which is great for far range photography.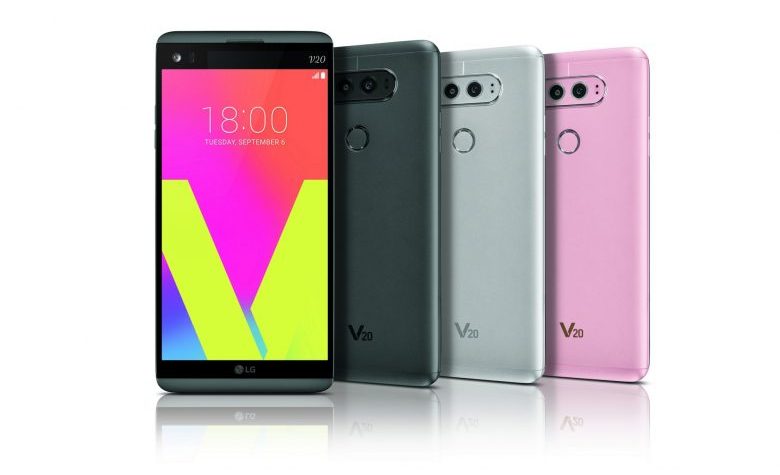 LG V20 also offers Steady Record 2.0. What is Steady Record 2.0 might you ask? This happens to be Qualcomm's video stabilization that is based on gyroscopes, which is also being known as electronic image stabilization or EIS. EIS is also present in the software, but combine that with Qualcomm's video stabilization and its own hardware, you have a mighty camera setup tucked inside a smartphone.
In addition, LG V20 also offers image stream analysis, which is DIS for short. This feature will be used for tracking a moving object and stabilizing the video by the object's line of movement, and will minimize distortion in the process. LG V20 also capitalizes on audio quality, and is able to capture lossless 24bit/48kHz audio. There's also a single 5MP camera location at the front and it features an aperture of f1/.9. The front camera is able to take normal or wide angle photographs through this camera as well.
The smartphone is also the first device out of the non-Nexus range to be running Android 7.0 as soon as you remove it from its box and comes with a larger 3,200mAh battery. The smartphone will be available in Titan, Pink and Silver color variants and will be available most likely during the end of this month. There are no pricing details announced, but we'll get to know about them in the future.